Which OnePlus 5 color do you prefer?
3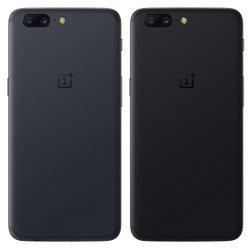 So, the
OnePlus 5
is finally available for purchase. The pre-sale period is over and there's no invitation shenanigans to put a spoke in your wheel. Well, the Flagship Killer has grown quite a lot in price as well, far from the once alluring $299 price tag, and up to $479 right now. But it's still quite the bargain.
As you probably know, you can get the OnePlus 5 in one of two variants — either the Slate Gray, which "only" has 6 GB of RAM and 64 GB of storage, or the trendy Midnight Black, supercharged with 8 GB of RAM and 128 GB of Storage. Obviously, OnePlus considers the matte black to be more of a premium finish.
But let's put the specs aside and talk color only — do you prefer any of these two paintjobs more than the other? Or do you think there's not much difference? Or would you rather you had a different color choice entirely?