When geeks' dreams come true: HTC DROID DNA specs review
76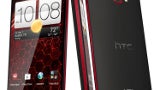 Oh boy, oh boy, oh boy, did you guys heard about this new HTC smartphone that will be available through Verizon soon? They DROID DNA they call it, and guess what - its 1080 x 1920 resolution screen will be a first! But of course, such a beautiful screen has to be complemented by a host of other high-tech goodies like a quad-core processor and an abundant amount of internal storage, otherwise it would largely go to waste. But thankfully, this doesn't seem to be the case with the HTC DROID DNA. C'mon, people, we're dying to take a closer look at the specs and features of that beast!

Design
If we have to be honest, a device cannot really win us with awesome innards alone. It has to offer an eye-pleasing appearance as well in order to make the package feel complete. That's why we appreciate the work that HTC has put into the design of the DROID DNA. The phone certainly looks eye-catching, with its slim, 9.7 mm profile and red accents here and there that contrast perfectly with the black body. HTC has always had a thing for design, and we do think that they've done a very good job with the DROID DNA.
Display
Now, this is where the HTC DROID DNA is going to leave its mark. This handset comes with a larger-than-life 5-inch screen, the key feature of which is the ultra-high resolution of 1080 x 1920 pixels. All of this means a never-before-seen pixel density of 441 ppi. If you still had complaints about the clarity of the current 300+ ppi screens (which we doubt), then this will certainly put an end to your "special needs." At this point, we can only guess if there's going to be much use in such a high resolution on a phone's screen, but you've got to admit, the number of pixels alone is enough to take a geek's breath away!
Not only is it going to be extremely detailed, but the DROID DNA's display will also utilize the so-called Super-LCD 3 technology, which is an advanced form of LCD. S-LCD2, as seen on the One X, was still among the best out there, and we can only imagine how much better this one's going to be. It's said that this new screen tech will be drawing considerably less power from the battery, which, if true, would be a very big thing. It also means users won't have to worry about the battery life of this monsterphone.
Processor and Memory
But you didn't think that with such an expensive screen, HTC is going to make compromises with the other components of the DNA, did you? Of course it isn't! The CPU powering the handset will be Qualcomm's heavyweight champion, the Snapdragon S4 Pro APQ8064! It's a quad-core processor, clocked at 1.5 GHz and coupled to a crazy-fast GPU - the Adreno 320. With this configuration under the hood, you can be pretty sure that each and every app available on Google Play and beyond will run flawlessly. And even if an app actually refuses to be executed, it'll probably be because it can't run as fast as your phone!
So, how does the DROID DNA present itself when it comes to memory? Very well, although probably not superbly. RAM will be more than enough at 2 gigabytes, but the internal memory will be fixed at 16 GB. While this will be enough for most users, we can already see some heavier ones wondering what to delete in order to free up some space to install that new game. There's no information about options with more internal storage, but we guess that if the DNA turns out to be a success, HTC will be quick to produce some. Unfortunately, the handset will not feature a microSD card slot for additional memory. This is one area where its rivals, the Galaxy S II and Note II offer a bit more flexibility.
Camera
It's too early to be talking about the camera quality, so we'll just focus on its specs here. The DNA will sport an 8MP shooter, which is pretty standard for a high-end phone nowadays, but the aperture will be quite good at F2.0. The camera will be complemented by an LED flash, which will not allow you to take great night portraits, but will still be much-appreciated whenever you try to shoot in low-lit environments. Naturally, the sensor will be of the BSI type, which is so popular nowadays, and you can expect all kinds of software goodies to let you take the most out of the cam, like an HDR mode and burst shot mode.
The front-facing camera will be an 2.1MP one and will do its best to take marvelous self-portraits for you, but, as always when it comes to cameras, you know that megapixels are not all that matters.
Connectivity
Oh, we can't wait to check out the browsing experience on the HTC DROID DNA! With this large, super-high-definition screen, we can imagine that it will simply be spectacular. We do hope that the HTC Sense 4+ UI will help in this respect as well, rather than hamper the experience.
It's not clear yet if the handset is going to support Adobe's Flash Player plug-in (probably not), but at least you can be absolutely sure that its connection to the internet will be blazing-fast, thanks to LTE support and Verizon's ever-expanding 4G network.
Confirming its status of one feature-packed device, the DNA will support Bluetooth 4.0, Wi-Fi a, b, g, n and n 5 GHz, as well as DLNA, NFC and MHL.
Software
Sadly, the DROID DNA will not arrive with Android 4.2 out of the box, though we sure hope that an update will follow at some point. Instead, you'll be greeted by Android 4.1 Jelly Bean, which is still fine for us. In terms of customization, however, HTC is putting its Sense 4+ UI, which is yet another attempt at optimizing and streamlining the custom interface. In addition to some multimedia enhancements, Sense 4+ also brings the new H Voice speech recognition service - HTC's own take on voice recognition.
The HTC DROID DNA can be pre-ordered right now! It costs $199 with a two-year contract, and probably the best news of all is that it'll launch on November 21! So, who's getting this monster of a phone?