HTC DROID DNA Review
99+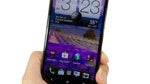 Introduction:
For all those Verizon customers disappointed that the carrier would be missing out on a variant of the
HTC One X
, their patience has been rewarded in the form of a spectacular smartphone bleeding cutting-edge hardware. Strange to say, especially considering the banner year filled with exceptional smartphones, Big Red's sole HTC offering came in the form of the forgettable
HTC DROID Incredible LTE
– a device that didn't do justice over the previously available
HTC Rezound
. Well people, HTC is going back to its roots with its upcoming offering.
Rather than concocting something that seemingly would fit into the upper echelon of Big Red's lineup, the Taiwanese company is breaking new ground that no other manufacturer has been able to establish. Galvanizing to say the least, the
HTC DROID DNA
is a meticulous work of technology, as its 5-inch 1920x1080-pixel Super LCD 3 display is a monumental feat in itself that's unmatched at the moment. Throw in the fact that it's complemented with other beefy hardware specs, such as a quad-core Snapdragon processor, 4G LTE connectivity, 2GB of RAM, and an 8-megapixel camera with an f2.0 lens, it's undoubtedly busting at the seams with enough drool worthy elements to raise it over other highly esteemed smartphones. At $200 on-contract, it's lovable in oh so many ways, but of course, let's hope all of that spiffy hardware can deliver the goods with its performance.
The package contains:
microUSB cable
Wall charger
Start Here Guide
Product Safety & Warranty Information
Important Consumer Information
Global Support information & Calling Card Guide
Design:
One would think that this would borrow some of the design cues of its siblings, but the HTC DROID DNA is flaunting a totally different design scheme to give it a distinct appearance of its own. Right away, we're impressed most with its deceptively skinny figure, which is achieved by its tapered sides similar to what's found on the
HTC 8X
– thus, giving us the illusion of it being skinnier than what it really is, though technically, it's at 0.38-inches thin. At the same time, however, we're taken by surprise by its lightweight feel (4.87 oz) in the hand, which interestingly enough, is lighter than its main rivals in the 5-inch and over category.
Beyond the skinny frame and light feel, HTC does a fantastic job at looking over every design detail with the handset, and overall, we admit that it's one solid thing – both in construction and build quality. With its soft touch casing, it exudes a clean finish at all times, but even better, we appreciate the red accents littered all around its body to give it some spicy character. Even with the minimal amount of bezel around its display, the handset is still an unwieldy thing to attempt using it with a single hand. It might not have the stylish appeal of the HTC 8X, or the tank-like build quality of the
Motorola DROID RAZR HD
, but nevertheless, the HTC DROID DNA is still one head turning smartphone.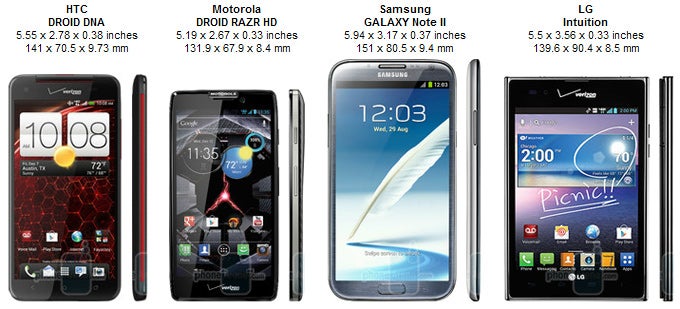 You can compare the HTC DROID DNA with many other phones using our Size Visualization Tool.
Sure it's Jelly Bean device out of the box, but that doesn't stop the veteran smartphone maker from opting to employ a trio of
Android capacitive buttons
beneath its display. Although they're spaced away from one another, they're too close to the bottom edge – resulting in some accidental presses.
Above the display
, the narrow earpiece stands out prominent due to its red accent. Nearby, we find its 2.1-megapixel front-facing camera, which is similar to the one used by the HTC 8X, since it features a wide- angle 88-degree f2.0 lens with 1080p video recording.
On one hand, we like how the power button and volume control have a red metallic shimmer, but unfortunately, we can't stand their indistinct feel and response. Simply, they're flush to the surface and lack any reasonable feedback when pressed. Around the top trim, we also find its microSIM card tray, 3.5mm headset jack, and noise-cancellation microphone. Conversely, the bottom edge is home to none other than the standard mic and microUSB port for charging/data/video-out (MHL adapter required) connectivity.
In the rear
, the HTC DROID DNA is packing a respectable 8-megapixel auto-focus camera, which is what we'd find with most high-end smartphones nowadays. Supplementing things, it features an f2.0 lens, LED flash, and 1080p video recording. Very hard to make out, there's actually a second LED notification light to the left of the camera – whereas the front one is incorporated into the earpiece. And lastly, micro dots form in unison towards the bottom center of the rear casing to comprise its speaker grill. Worth mentioning, there's no access to its internal 2,020 mAh battery with its closed design, plus, there's no microSD card slot with this one either.
Display:
Shiver me timbers Batman! HTC isn't messing around in gaining attention with this handset, oh no, seeing that it sets the benchmark with its mind-blowing detail. At 5-inches in size, it doesn't have a thunderous appeal over the
Samsung Galaxy Note II
's larger 5.5" display, but nevertheless, it's still one of the biggest found on a smartphone. However, what's certain is that it shatters the mold with its
1080p (1080 x 1920 pixels) resolution Super LCD 3 display
. Needless to say, we would've been content with a 720p one, but regardless of that, it leaps over the competition with its ridiculously detailed pixel density of
440 ppi
(720p HD dispalys have average of 330 ppi). Although it requires a microscopic eye to really show the difference in detail between this and a display with 720p resolution, we can't argue the fact that it's superbly detailed and sharp, so fine text is very life-like and pleasant to read. Heck, it's so detailed that it rivals the micro printing seen on paper money.
Details aside, its Super LCD 3 delivers the goods in making it a viable contender with its rich
color production
, wide
viewing angles
, and strong brightness output. Essentially, all of those ingredients help to keep its display extremely visible in outdoor conditions with the sun present. Of course, we also take notice of Gorilla Glass 2 layered over it, which so happens to curve around the edges to have a seamless look with the handset's body. Indeed, there's a lot of chatter about its resilience to scratching, but after dropping it by accident to a tile floor, its impervious nature is debunked as a visible tiny crack is seen at the location of impact. Regardless of that, it's unbelievable to know that our eyes are actually feasting on a 5-inch 1080p display. Crazy, people! Crazy!
HTC DROID DNA 360-degrees View: