What's in it for me? Flexible OLED display phones explained
30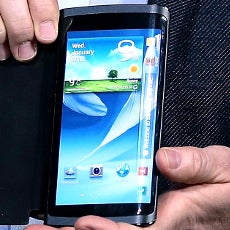 Now that the first flexible display phone panels are official from both LG and Samsung, let's examine what they are going to bring to smartphones like the
LG G Flex
and the
Galaxy Round
, or, eventually, tablets down the road.
One of the big promises of the OLED screen technologies was precisely the fact that they don't need backlighting like the LCD ones, and can be laid on a plastic, instead of a glass substrate. That's where the "bendable" and "unbreakable" adjectives in the flexible display description come from - since it is essentially a ziplock bag of sorts, the whole panel can fold to a certain extent.
The new substrate material also brings another added benefit - these display packages are much less rigid than their glass-enclosed counterparts, so when you drop the phone on its side, or even bang it
screen-down on the pavement
, it won't crack or shatter. As for screen specifications, Samsung already outed that its 5.7" display wonder will come with 1080x1920 pixels of resolution, so we don't even have to make sacrifices in terms of pixel density. Screen brightness and reflectivity are the big unknowns, but the nits shouldn't be less than what we have in the current OLED crop, while reflectivity might even be diminished further because of the plastic encapsulation.
Since the flexible OLEDs themselves can bend, but the rest of the phone components can't, the first handset generations with those panels will likely benefit in other ways, though
bendable PCBs and batteries are already in the works
, as well as
flexible RAM modules
. Let's check out what we will be getting with those bendy phone screens from LG and Samsung in the immediate future.