Galaxy Round trademark granted by USPTO, indicating a new Samsung line of flexible display gear
10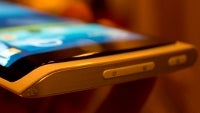 We told you earlier about Korean media chatter that
Samsung's first phone with flexible display might be called Galaxy Round
, and be announced as soon as this week. Well, it seems to indeed be the case, as observant folks have spotted how Samsung just called dibs on the Galaxy Round title with our own United States Patent and Trademark Office last week.
Dated September 30th, the trademark grant includes the usual laundry list of software and hardware it might be applied to that such broad claims do, with "
Tablet Computers; Telephones
" mentioned at the end of that list, so Round might indeed be the name of a new Galaxy line that uses
display substrates made of plastic instead of glass
, making them way more durable, and allowing some interesting
shape-shifting shenanigans
.
Rumored specs for the Galaxy Round handset are a 5.7" AMOLED display, quad-core processor, 2 GB of RAM, 8 MP camera and Android 4.3, plus eventually an S Pen stylus. Moreover, will LG's 6" flexible display phone will be curved top to bottom, sources confirmed for Reuters that Samsung Galaxy Round would be curved side to side, like the
YOUM prototype
we saw back at CES this year.
Input Field

Entered

SERIAL NUMBER
86078164
MARK INFORMATION
*MARK
SAMSUNG GALAXY ROUND
STANDARD CHARACTERS
YES
USPTO-GENERATED IMAGE
YES
LITERAL ELEMENT
SAMSUNG GALAXY ROUND
MARK STATEMENT
The mark consists of standard characters, without claim to any particular font, style, size, or color.
REGISTER
Principal
APPLICANT INFORMATION
*OWNER OF MARK
SAMSUNG ELECTRONICS CO., LTD.
*STREET
129, Samsung-ro, Yeongtong-gu, Suwon-si
*CITY
Gyeonggi-do
*COUNTRY
Korea, South