What former iPhone users are saying about the BlackBerry Passport; Spring Sale extended to May 8th
99+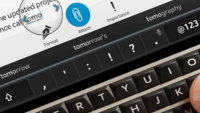 It probably goes without saying that the unique looks of the
BlackBerry Passport
means that fans of the handset are thoroughly invested in the device. BlackBerry recently spoke with a number of professionals who swapped their iPhone for BlackBerry's flagship model. Each one of them preferred the Passport, and mentioned the reason(s) for their feelings.
Many preferred the wide 4.5-inch 1440 x 1440 screen to the narrower display on the iPhone, allowing users to
view documents without having to scroll back and forth
. Many favored the QWERTY keyboard on the BlackBerry model, which provides physical keys and virtual buttons that change based on the context of what is being typed.
Also getting pointed out is the advertised 30 hour battery life. One user says that his Passport provides him with battery life in excess of two days. Some raved about the phone's build quality and others called the Passport "
fast and productive
." BlackBerry Balance, BlackBerry Hub and BlackBerry Blend each received praise. Having
Balance
is like owning two phones in one, with one handset for work and the other for play. Blend lets you view content from your phone on a computer, great for those working in the field. Hub is the productivity center of your phone, where all messages can be found.
"There were many other comments from other users that I haven't included. But if I had to quickly summarize, it's the unified messaging of the Hub, oversized screen, touch-enabled keyboard, crystal clear speakerphone coupled with a solid feel and design that our power pro users like the most about the BlackBerry Passport."-Eric Lai, BlackBerry
The occupations of those who made the switch from iPhone to Passport included a lawyer, mechanical engineer, university professor, a research scientist and more. If you want to join them, you have a few more days to take advantage of BlackBerry's Spring Sale. The manufacturer announced on Friday that it has extended the sale by three days until May 8th. With a discount, pricing for the red, black and white BlackBerry Passport is cut 8.3% to $549. The old-school
BlackBerry Classic
is priced at $399, and the
BlackBerry Z30
can be yours for $229.
The sale
originally started last month
, and some of the prices have been slashed even more. The price of the white
BlackBerry Q5
, for example, was originally cut 33% or $100 to $299. With an additional $150 (or 50%) discount, the handset is now just $149. The sale prices are offered in the U.S., Canada, the U.K., France and Germany from BlackBerry's online store,
ShopBlackBerry.com
.
source:
BlackBerry
via
Crackberry