Work Wide enhances productivity on the BlackBerry Passport by allowing two apps to run side-by-side
17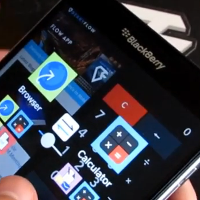 BlackBerry has promoted its enterprise-centric
BlackBerry Passport
as a way to Work Wide
. The 4.5 inch screen on the phone features a 1440 x 1440 resolution, and the 1:1 aspect ratio gives users of the phone a wider view of what is on the screen. This allows Passport users to more easily read documents on their phone.
Now, a new app called
Work Wide
is available in BlackBerry World, exclusively for the new flagship 'Berry. The app allows the user to run two apps side-by-side on the Passport screen. For example, let's say that you want to listen to our review of the BlackBerry Passport while composing an email. Without this app, if you load up our review on YouTube, you couldn't use the browser for anything else. With Work Wide, you can use part of the screen to watch the video, and use the other part to write an email.
The apps available for multitasking include an HTML5 browser with reader mode, a calculator similar to the native calculator on the phone, a picture viewer and a text viewer. You can swap the sides that each app is running on, and you can even adjust the width of one of the apps if you want one to use more of the screen than the other.
Priced at $2.99, Work Wide is an application that really does improve the productivity of a phone that already is quite productive.
source: WorkWide (
BlackBerry
),
BBRYFlow
via
Crackberry