BlackBerry Passport Review
99+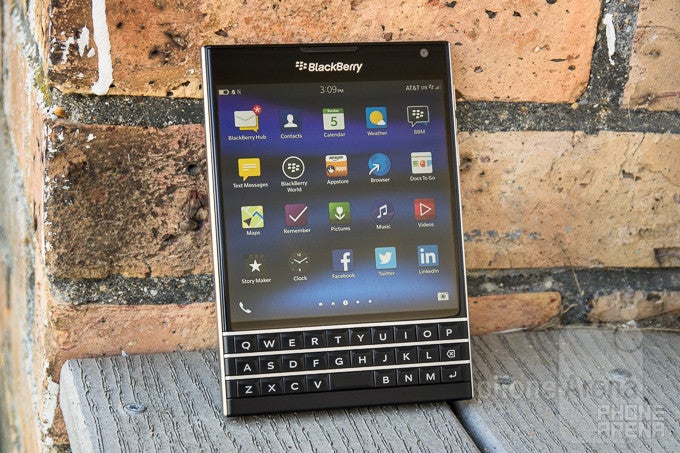 Introduction
It's amazing how things can quickly go to hell for some companies in the mobile space, where one day they're a top-tiered contender, to being overlooked as an antiquated player who can't seem to innovate. One company in this particular predicament is BlackBerry, who is still to this time trying to stay afloat amidst the stiff competition that's around.
Interestingly, it's been nearly 2 years already since BlackBerry launched the
Z10
– an all-touch smartphone running the company's contemporary BlackBerry 10 OS, which aimed to bring the company back into good light. Sadly, though, that wasn't the outcome, as the company continues to struggle to be a relevant player.
From the looks of it, they're going back what they're most noteworthy for bringing to the smartphone world. Touch is all nice, but the
BlackBerry Passport
sports a familiar form factor that builds upon the reputation of the company. Paired with a physical keyboard, a standout and iconic feature of past BlackBerries, the Passport is the modern BlackBerry reincarnated. Will paying homage get consumers excited for it?
The package contains:
microUSB cable
Wall charger
Stereo headphones
Start guide
Product safety and warranty information user manual
Design
Reinventing the look of a BlackBerry, the Passport is beautifully crafted and designed to exude a modern finish that looks good.
This is a beautifully designed, solidly constructed phone that's very different from the usual slates we're accustomed to seeing nowadays. At the same time, it bears a faint familiarity to past BlackBerry smartphones, but its edgier look gives it an elevated, contemporary design that's unique in the space at the moment.
Small design choices, like its stainless steel frame, tells us that the company invested a lot of time and care to designing the Passport. If there's one qualm we have about the device, it's that it's pretty wide – to the point that it's almost unwieldy to hold for those with smaller hands. Heck, it's wider than the iPhone 6 Plus! Call it ironic, but the Passport nearly matches the dimensions of an actual passport.
All of the handset's ports and buttons are placed along the stainless steel frame. They include the power button, 3.5mm headset jack, microUSB 2.0 port, left & right speakers, microphone, volume control, and a quick key button placed in between the volume control that acts as a pause/play function, as well launching BlackBerry Assistant with a long press. Part of the rear cover can be removed to access its nanoSIM and microSD card slots, but the battery is not accessible.
Keyboard
Disorganized, cramped, and some other weird quirks make the keyboard almost impossible to use effectively.
One of the standout features of the Passport is the unique 3-row keyboard below its display, which some hardcore BlackBerry fans will appreciate, since you know, it's the foundation that BlackBerry began with. Sadly, though, we're not fans of this specific keyboard – partly because of its cramped layout, the lack of a dedicated numeric row, the space bar being plopped right in the middle of the last row of keys, and that there is no physical shift key. Worst yet, long pressing on the backspace button makes it act as a deleting function – so if you're not careful, it can unintentionally delete things.
Well, there are new innovations that we applaud – like how it's touch sensitive. In fact, it's useful in the way that we can swipe our finger over the keyboard to place the cursor in a specific spot, which is a lot more intuitive than other touchscreen-only implementations. In addition, its enhanced predictive text feature allows us to swipe up from the left, center, or right areas of the keyboard to select a specific predictive word.
Despite those new features, the keyboard as a whole is still not as intuitive or hassle-free than a standard all-touch. Indeed, some people will prefer the physical response of its keyboard, but it's a shame that it doesn't act in the same useful manner as previous BlackBerry keyboards.
Display
The wider look of the display is unconventional, but it proves to be ideal for productivity centric tasks.
An unconventional shape, the Passport features a squarish 4.5-inch 1440 x 1440 IPS LCD display, which is the sharpest (453 ppi) and highest resolution screen to grace a BlackBerry smartphone. Details are undoubtedly crisp, but the true benefit here is that we can see more of a web page or document because it's 30% wider than the average 5-inch display.
What's especially nice, too, is that the screen exhibits some high quality elements. Impressively, it produces a blinding maximum brightness output of 894 nits, which makes it extremely visible outdoors with the sun present. Just for a comparison, the iPhone 6 manages to deliver 606 nits of brightness with its display. Meanwhile, its color temperature of ~7000 K (reference value of 6500 K) means the white point is pretty accurate, only slightly blueish. And finally, it's pretty accurate with its color reproduction – where it hits very closely to the various reference points in our display benchmarking test.
Display measurements and quality
Recommended Stories