Watch the Oscars tonight, win a Motorola DROID Turbo 2 tomorrow (U.S. Only!)
8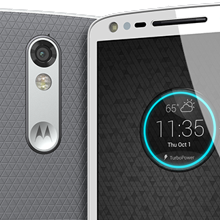 How would you like to win a free
Motorola DROID Turbo 2
, the first handset with a shatterproof screen? This way, if you ever have the opportunity to walk on the Red Carpet, you can stumble, drop your phone, and not have to worry about a cracked screen. Actually, we bring up the Red Carpet because this contest has something to do with tonight's Academy Awards show.
The contest has just started, and runs until 12:59 am EST Monday morning in the U.S. And yes, it is open to residents of the 50 states and the District of Columbia who are 18-years of age and older. That means President Obama could enter and try to win a Turbo 2, too.
To enter, you need to have a Twitter account. If you don't have one, you can install the app for the appropriate OS or go to Twitter.com. It won't cost you a dime. Sometime before the deadline (again, 12:59am EST Monday morning), send a tweet to @Moto_USA. Using the hashtag #phonedrop, describe a "show-stopping" moment from tonight's Academy Awards show. You can send unlimited entries.
From all of the entries tweeted to @Moto_USA, one will be selected as the winner Tuesday morning at midnight EST. At 5pm EST Tuesday evening, the winner will be notified. Good Luck!
One last thing has popped up. Television personality Whitney Port is going to be live tweeting from the event for Motorola. Yet, her tweets indicate she is using an Apple iPhone to tweet from. Oops! If you're Motorola you can't be happy about that. Maybe she will win an Oscar for Best performance by a paid shill pretending to be an Android user. The value of the prize, by the way, is listed by Motorola as being $624.
source:
@Moto_USA