Motorola DROID Turbo 2 Review
67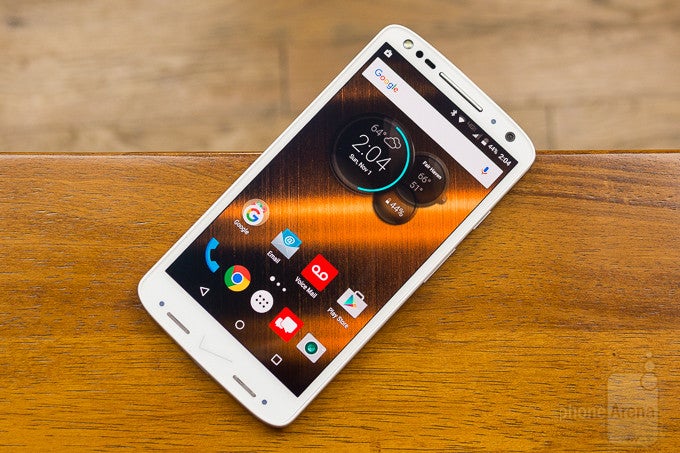 Introduction
Motorola is on a roll, there's no doubting that undeniable fact. Unlike the Motorola of the past, which spewed several new handsets throughout the year, today's Motorola, now a Lenovo company, has more of a defined portfolio consisting of quality devices that pack substance.
Now, it wouldn't be Motorola-like without its prized DROID line for Verizon Wireless. Needless to say, it's a longstanding relationship between the two companies. Last year, the
DROID Turbo
impressed many folks not only for its better specs sheet than the
2014 Moto X
, but it also proved to the critics that today's high-end phones are still capable of delivering long-lasting battery life.
Back for round two, its successor in the aptly named
DROID Turbo 2
hopes to continue the trend – while also being greeted with the usual array of improvements and upgrades. With this year's model, however, it tacks on one peculiar quality that's lacking in many of today's premium devices. That, folks, is none other than sporting an impenetrable design that can withstand the pitfalls that we sometimes encounter in our lives.
The package contains:
Motorola Droid Turbo 2
Turbo charger
Quick start guide
Safety & warranty information
SIM removal tool
Design
Its rugged-like construction is complemented by its highly customizable design via Moto Maker.
Aesthetically, the DROID Turbo 2 has less of an aggressive design than its predecessor. That's not a bad thing per se, seeing that its slimmer footprint makes it vastly easier to handle than say, the
Moto X Pure Edition
. While it shares some of the design aesthetics of Motorola's prized darling, the DROID Turbo 2 favors a design with a more subtle arch to its casing – complemented by a thicker metal trim bezel. From afar, it's distinctively boasting many of the design characteristics of the Moto X Pure Edition, like the metal plate that's encompassing the Motorola logo and camera lens on the back, but the "DROID" name plastered on the back makes it unmistakable.
Our particular unit is a white DROID Turbo 2 with an embossed triangle pattern stitched across its casing that emphasizes texture. There's definitely a subtle plastic feel to the entire thing, but more importantly, it helps in giving it a clean finish that doesn't show any fingerprints or smudges. Going with this particular setup is crucial, as the materials employed here all help to give the DROID Turbo 2 its increased durability – where it's able to absorb shocks due to drops, without fear of the phone's construction being compromised.
While the design is slightly subdued over last year's aggressive styling, the DROID Turbo 2 benefits by offering more customization with its design via Moto Maker. Similar to the Moto X Pure Edition, you can design the DROID Turbo 2 to your liking – choosing the kind of materials, colors, and even engraving. Besides the soft grip body casing, you can opt to go with a ballistic nylon or pebbled leather finish, giving it a more sophisticated look and feel. This alone boosts its design tremendously, whereby very few phones have this level of customization.
Motorola's modern design DNA is obviously well-intact with the DROID Turbo 2, but it does see one specific difference to the Moto X Pure Edition in the form of built-in wireless charging, which is an added treat for this DROID.
Besides that, it pretty much follows after the Moto X Pure edition, which shouldn't be surprising at all. For example, they've also fashioned a handy LED flash with the front-facing camera, ensuring that faces are properly exposed in the dimmest of lighting conditions. Also similar, the camera setup in the back with its dual-tone LED flash and the recessed Motorola nub.
Rugged designs are one thing, being waterproof is totally another. Prior to its official announcement, we were teased by the prospect of it being waterproof. Alas, that's not quite the case, since it offers the same level of water resistance as its predecessor, thanks to its advanced nano-coating technology. More than capable of enduring minor accidental spills, or usage under light rain, it's not intended to survive complete submersion. Still, we'll take its level of water resistance.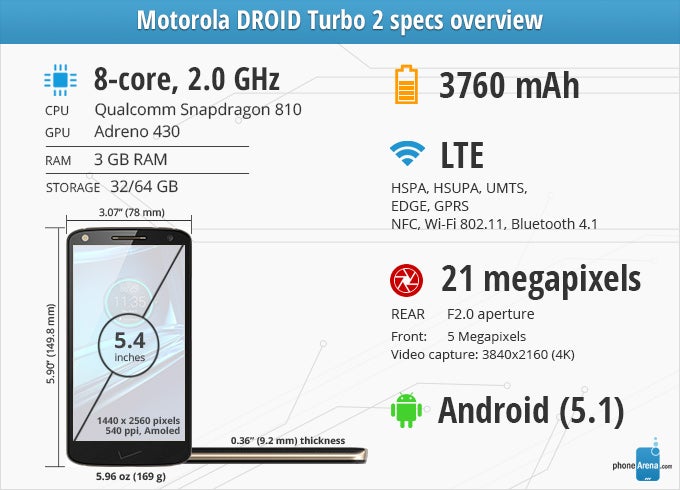 Display
You'll never have to worry about dropping your phone thanks to the ShatterShield display.
The biggest attraction in the DROID Turbo 2's 5.4" QHD screen is the new ShatterShield technology.
With it, it's like buying a smartphone with a flawless screen protector pre-installed! But, more importantly, it's the mark of plastic OLED technology finally coming together to offer smartphone users peace of mind. How so?
Simply put, there is no glass on this thing, although it's pretty hard to tell! The DROID Turbo 2 display assembly is split in five layers, engineered for maximum durability. It starts with an aluminum chassis that holds the AMOLED panel, providing structural integrity. On top of the AMOLED panel lie not one, but two touch-sensitive digitizers — if the primary one fails, the second immediately takes over. No compromises here! Moving upwards, we find an "interior lens", which is an optically transparent layer that acts as a clear protective shield. Finally, the interior lens is covered by a second, exterior protective lens with a proprietary hard coating that guards against damage. This is what your fingers end up touching as you operate the touchscreen.
All of this attention might seem overkill, but it's a necessary one that ensures it continues to work flawlessly despite being dropped. Whereas other screens can crack or shatter after a few drops, the ShatterShield display is able to endure multiple drops without incident. Even from a height of 5 feet, then coming into contact with concrete with the display impacting first, there's no damage to it whatsoever.
What about the other qualities of its display? Well, it's typical AMOLED in the way it produces over-saturated colors, wide viewing angles, and that perfect black color. Despite its inaccuracies in the sRGB color gamut chart, the panel actually delivers a pretty good color temperature of 6849K. From the looks of it, however, the screen exhibits a yellowish tone. Recently, we've seen improvements made to AMOLED technology when it comes to luminance, but the DROID Turbo 2 tops out at a meager 315 nits. While that tally can be pushed to 445 nits when it's placed on the automatic setting, where using it with the sun cranks its contrast even higher, it's still nowhere close as potent as the Moto X Pure Edition.
Nowadays, Quad-HD resolution is hardly a surprise. Motorola manages to differentiate its display here in the DROID Turbo 2 by accompanying it with a shatter-resistant screen. Trust us, it's an invaluable thing to have, because at some point during your relationship with the phone, you'll inevitably drop it – whether it be by accident or on purpose. Well, it's just good to know that it's ensured to survive. That alone is a quality that few phones can tout!
Display measurements and quality