Watch Samsung Unpacked 2013 livestream here (Galaxy Note 3 and Gear smartwatch expected)
44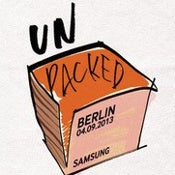 Samsung is setting the stage for a huge event - Samsung Unpacked 2013 Episode 2. In mere hours, the Korean company will unveil its third generation Galaxy Note III, and it is also expected to break new ground with the Galaxy Gear smartwatch.
"Note the date 04.09.2013 Berlin,"
Samsung teases and all eyes, of course, are on the
Samsung Galaxy Note 3
. The third-generation phablet is expected to feature an even larger and sharper 5.7-inch 1080p display and the S Pen stylus. We also would guess Samsung is using the latest Snadragon 800 chip in it, but we've got to admit that this time the Koreans really have managed to keep leaks to an absolute minimum, and we're in for a surprise.
The same can be said about the upcoming
Samsung Galaxy Gear
. Just a few days ago, first leaked images showed a prototype of the smartwatch that's expected to come with a 3" display, and now everyone is eagerly awaiting to see whether Samsung can pull off a truly innovative device in a brand new category.
It will all start in mere hours and Samsung will live stream the event on YouTube. For those of you who cannot watch it live, we have a liveblog that will keep you posted. Stay tuned.