Samsung Galaxy Gear smartwatch leaked Sunday was just a prototype, not the finished design
43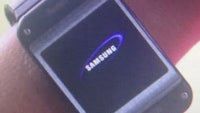 On Sunday, we showed you a
leaked picture of the Samsung Galaxy Gear smartwatch
. The first leaked photo of Samsung's smartwatch did not bring forth positive adjectives to describe the device. The watch was called boxy, unattractive and ugly. But fear not Samsung fans! A published report on Monday says that the watch pictured on Sunday was not the market-ready product and that we will see a "
different, more finished product
" on Wednesday
when Samsung unveils its new smartwatch during simultaneous events in New York and Berlin
.
According to someone in the loop, the Samsung Galaxy Gear smartwatch does not offer a built-in browser but is powered by Android 4.3 with the keyboard features disabled. With Bluetooth LE (Low Energy) connectivity, the watch can be used to run health related apps like heart monitors and blood pressure readers. Phone calls also can be made or taken. One area where consumers are going to want to see improvement is with the battery life on the watch which is said to last 24 hours with average use and 10 hours with more active use. The notifications take up the ee finished designntire screen of the watch with icons on top and a two line text on the bottom. Currently, Twitter tweets and Facebook messages aren't working on the prototypes.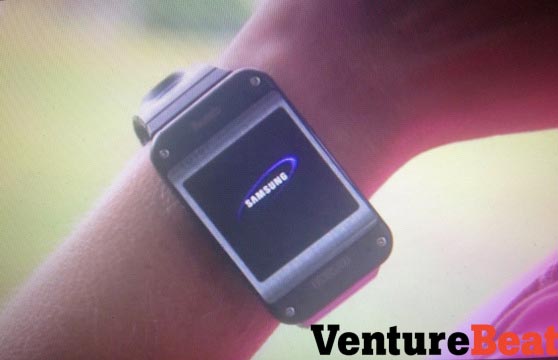 Leaked picture of Samsung Galaxy Gear smartwatch was not showing the finished product. Image courtesy of Venture Beat
Sources say that the watch will sport a 2.5 inch diagonal display (3 inches including the case) which will be a high quality OLED screen. Expect a dual-core 1.5GHz Samsung Exynos 4412 processor with a Mali-400 MP4 GPU running the show. A camera, microphone and speakers are integrated into the watchband. The only way to connect to the internet is to tether with the browser on a paired phone and the device needs to connect to a Samsung device with a watch based app store in order to install apps on the timepiece.
Those who were dismayed at the design of the watch in the picture leaked Sunday afternoon, will be happy to know that those thick bezels were hiding the real display of the watch. And yes, the Samsung Galaxy Gear does offer an accelerometer to make sure that the image on the display is always oriented correctly.
source:
GigaOm
via
SammyHub