Watch Apple's iPhone 5S, 5C announcement here (no livestream for this event)
63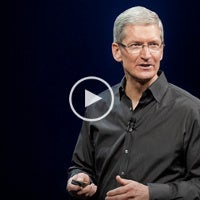 Apple's grand iPhone event is about to start soon! Apple's iPhone unveiling has become a yearly ritual that the company follows rigorously, but this year we expect to see a break in its habit - Cupertino should unveil not one, but two iPhones at this event.
The first one, the rumored
iPhone 5S
, is expected to become the seventh iteration in the iPhone series, a premium device that will come with the new iOS 7, the Apple A7 system chip and a brand new fingerprint sensor baked right in the home button. The iPhone 5S is expected to look just like the current iPhone 5 and the only new thing in its looks could be a rumored champagne-gold color version.
The second device that should see the light of day in mere hours is the
iPhone 5C
, a plastic and more affordable device, that should share many of the features of the iPhone that we know - virtually the same size and screen.
UDPATE:
Unfortunately, it looks like Apple is really going to break its habit and won't be livestreaming the announcement. The company will post the video from the event at the following link, but this will probably happen a few hours after the live presentation. You can follow our
liveblog of the Apple event
to stay informed!