Walmart makes boo boo by showing HTC Hero instead of HTC EVO Design 4G in flyer
9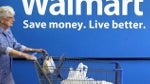 You might recall the HTC Hero that was released by Sprint back in October 2009, just a few days before the Motorola DROID started Androidmania. The Hero was evolving from the T-Mobile G1 and certainly looks nothing like HTC's current lineup of Android handsets. That is why it seems strange that whomever was checking the copy for Walmart's latest circular let a picture of the 2 year old phone sneak in above copy for the brand new HTC EVO Design 4G.
The
HTC Hero variant that landed on Sprint in October 2009
introduced Sense UI to the U.S. and had a elongated look with a trackball on the bottom of the phone. Of course, the HTC EVO Design 4G does not have the trackball and is currently available from Sprint for $99.99 with a 2-year contract. Buying the phone from Walmart will save you $1.11 with the same signed pact. Just make sure that they give you the HTC EVO Design 4G, not the HTC Hero.
source:
Walmart
via
SprintUsersForum