HTC EVO Design 4G Review
13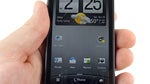 Introduction:
When Sprint announced last year that the
HTC EVO 4G
was just the first in a family of EVO products we were a bit skeptical, but here you have the
EVO Design 4G
, the 5th member of the EVO family. The EVO Design 4G is quite the looker with an aluminum unibody design and 4" qHD display. Known as the
Hero S
elsewhere, the EVO Design 4G has WiMAX data and a dark paint job to set it apart. Other key features include a 5 megapixel rear and 1.3MP forward-facing cameras, 1.2GHz Snapdragon processor and DLNA for wireless media streaming. Included with the EVO Design 4G you'll get the microUSB cable, AC adapter and a 8GB microSD card.
Design:
As the name implies, there is a large focus on the aesthetics of the EVO Design 4G. Following in the footsteps of devices such as the
Legend
,
Desire S
and
Rhyme
, the EVO Design 4G is crafted out of a single piece of aluminum for a unibody construction. Unlike the Rhyme, the battery is still thankfully removable.
From the second the EVO Design 4G touches your hands you know it's going to be good. It feels wonderful in the hand - a perfect balance of weight and size. The smaller 4" display makes it more accessible to more petite hands. The display isn't quite as big as the original EVO 4G,
EVO 3D
or the
Amaze 4G
, but the slightly smaller size combined with the qHD Super LCD display makes this the most pixel-dense display HTC has ever put out. Text is very crisp, the brightness is good and readability isn't an issue in all but the most direct light.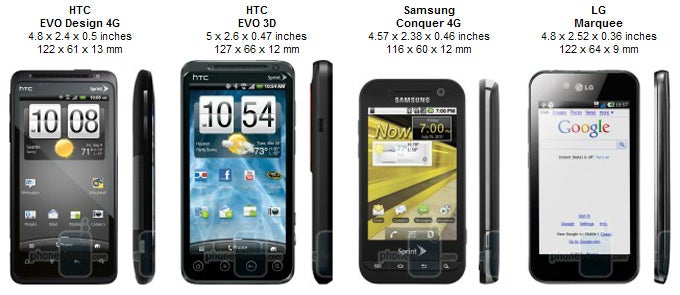 You can compare the HTC EVO Design 4G with many other phones using our
Size Visualization Tool
The only physical buttons on the EVO Design 4G are the volume rocker and power button, both of which are shallow but still give good indication they have been pressed. We're a bit disappointed to see that there is no dedicated camera key, especially since this has been a fixture on recent HTC devices. The back is mostly coated with soft touch paint for added grip, save for the brushed aluminum banding with an engraved HTC logo. The mirrored camera housing adds some more eye candy.
The EVO Design 4G feels nearly perfect and is one of the best designed phones recently. We're crazy about HTC's unibody designs and are particularly fond of the black aluminum found here. The weight gives the EVO Design 4G a good, quality feeling without being prohibitive and the slightly smaller display makes it easier to hold for small hands. As usual, build quality from HTC is top-notch with premium materials. Simply put, this is one nice looking phone.
HTC EVO Design 4G 360-degrees View: