Video shows how much lighter, thinner and narrower the Apple iPad 5 will be
28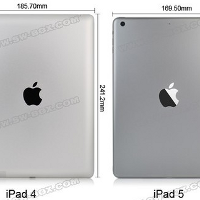 We've
already seen the new look of the next full-sized Apple tablet
, the
Apple iPad 5
. Thanks to the design cues it has taken from the
Apple iPad mini
, the device is thinner and lighter and the volume rocker is made of two parts instead of just one. And we must not forget the stereo speakers that come with the new design.
If you want to know exactly how much the difference is between the iPad 5 and iPad 4, take a peek at the video below produced by Chinese part manufacturer
sw-box.com
. The length of the new tablet is, at 239.2mm, 2 full mm shorter than its predecessor. In terms of width, there is a rather noticeable difference. The
Apple iPad 4
measured 185.7mm wide versus the 169.5mm for the upcoming device. Our math skills aren't what they once were, but it still works out to a 16.2mm difference.
There is also a small, but noticeable difference in thickness. The Apple iPad 4 is 9.4mm thick while the iPad 5 is 7.2mm thick which is far from a subtle change. We might only be talking about mm, but you can see the difference. And the new iPad will be 37% lighter, making it easier to carry around.
The latest rumor has Apple introducing the new Apple iPad 5 and the Apple iPad mini 2 on October 15th.
source:
sw-box.com
via
MacRumors
,
Pocketlint