Video of the shell of the yellow iPhone 5C surfaces, gives us a nice visual tour of the iPhone's design evolution
25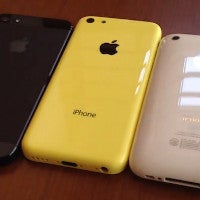 We'vebeen here before. Several times, actually. Truth be told, somemay even say wehave even seen too much of Apple's upcoming affordable iPhone 5C,and they wouldn't be wrong. But regardless of whether you'd simplyprefer to seethe actual device already or enjoy the glimpses from the future,there's no denying that the hype machine surrounding the new iPhonehas lit up the Web like a brush fire.
So here we are again, with yetanother high-definition visual of the upcoming iPhone 5C's shell,this time in yellow. Even though we're well aware of the design cuesthe iPhone has gone through, it was actually interesting to see thelegacy devices all at once, compared to the iPhone 5C. What's more,halfway through the video, it'll be made abundantly clear just howmuch the new addition to the iPhone setup blurs the lines betweenolder designs by seemingly combining them into one.
Looking to circle a launch date onyour calender? Well, accordingto a Bloomberg report from a few days ago, the iPhone 5C isexpected to see its official unveiling in October. We don't reallyhave insight into the price that's reliable enough, but rumors seemto be indicating a rather steep price point in the $400 to $500ballpark. If this turns out to be true, we find it hard to see howthis will help Apple mount an effective charge on developing markets,so we'll have to wait and see.
source: SonnyDickson