Cheap iPhone, iPhone 5C, iPhone Lite: A collection of leaked images
12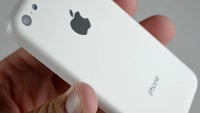 Oh boy, there have been so many iPhone 5C/Lite leaks these last few months that we're starting to wonder if this isn't already the most heavily-leaked handset ever. Those colorful plastic back covers are surfacing almost everywhere you look, and for the first time ever, we're actually starting to believe that Apple, might, indeed, produce... a watered-down version of the iPhone.
Speculations regarding the name of the much-anticipated product continue. We've been following the leaks since the very beginning, when the device was simply called "the cheap iPhone." Since then, we've witnessed a transition to actual, believable names, such as 'iPhone Lite' or 'iPhone 5C'. Whatever the name is, though, we think it's clear what we should expect in terms of appearance - after perusing the multitude of leaked images and renders, the iPhone 5C has established its image as a polycarbonate handset that has a very similar footprint to that of the iPhone 5. By the looks of it, it's going to have the same screen size and aspect ratio as Apple's premium smartphone, and it'll also keep pretty much the same button layout. With that in mind, though, there just has to be something else that Apple has scaled down in order to justify the existence of this product. Our guess is that the chipset inside will not be as powerful as what's going to arrive with the iPhone 5S, or even what's already inside the iPhone 5. It's also relatively safe to assume that the camera will have fewer megapixels and lower quality.
Of course, these are all just guesses - we have absolutely no solid idea what the iPhone 5C is going to be like. And the images below... well, that's a collection of leaked photos that we've come across recently. Check it out, and by the time you're done, there's probably going to be a new iPhone 5C leak waiting for you on our homepage.