iPhone Lite hands-on video spotted, tells us half the story
46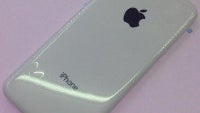 Why, hello there! Is that the iPhone Lite that either-is-or-isn't-the-real-deal we see you handling there? For clarity sake, let us reiterate. A video hands-on has appeared on YouTube by tech reviewer
DetroitBORG
telling us half the story. "Why half?!" – an expected query – half, because as it happens, the reviewer has only gotten his hands on the back casing of a white iPhone Lite.
Before you jump to any conclusions, we can't guarantee this is an authentic piece. Regardless, we have seen this very same piece photographed what feels like thousands of times already, and even though we've had some high-res shots, 1080p video is a whole different thing.
So enjoy the show and tear the comment section a new one. Would you consider the iPhone Lite the next time you're smartphone hunting?