Verizon Samsung Galaxy Nexus gets the teardown treatment
6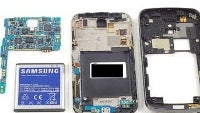 The Verizon Samsung Galaxy Nexus is finally up for sale and while we knew it's going to be a hair thicker than the international version, we're still curious to find out whether there have been any other changes on the inside. After all, there were so many delays that Samsung might have even made some changes.
iFixit tore down the Galaxy Nexus
earlier when the GSM version became available and gave it a rather average repairability score partly because of the glass being fused to both the display and the frame. Now, the CDMA Verizon version is out and it has both similarities and discrepancies.
The battery on both handsets for example has an NFC chip and is easily replaceable as the back cover pops up, and the screen is similarly assembled. Hit the source link below for a step-by-step guide and all the pictures of the insides of the Verizon Samsung Galaxy Nexus.
Recommended Stories