Samsung GALAXY Nexus torn down: NFC in the battery, average repairability
3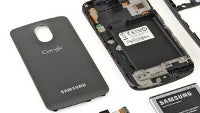 The
Samsung Galaxy Nexus
is probably the most anticipated device - it's the first to come with
Android 4.0 Ice Cream Sandwich
and with a huge 4.65-inch screen and distinct concave curved design has the looks to turn some eyes. And when it comes to real-world usage, the new pocket companion for many will face drops and tough treatment from many. Is it easy to repair? The dexterous gadget surgeons from iFixit tear down the Samsung Galaxy Nexus to answer this question and reveal its secrets.
The first surprise is right at the start - after taking off the thin rear plastic cover, a 3.7V, 1750mAh battery shows up but it's not just your regular battery. This one says
"Near Field Communication"
and actually has an NFC chip under the wrapper, so if you ever need to replace the battery, you'd need to find a similar NFC-enabled one to keep the functionality.
Further digging reveals two L-shaped boards holding the silicon of the Galaxy Nexus. Overall, the handset is relatively easy to disassemble, with little adhesive used and the removable battery is definitely a big plus. Replacement of most components is easy as only the volume switch and the vibrator motor are soldered to the motherboard.
Accessing the motherboard itself however is a more difficult task, but probably the biggest hurdle in repairing the Galaxy Nexus is the
screen
which is fused to both the display and the display frame. This would translate into repairs of all three if you crack the screen and it's one of the big reasons why the handset got an average 6 out of 10 for repairability.