Uploads to YouTube up 400% since launch of iPhone 3GS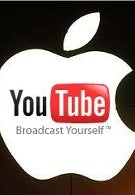 How influential is the new iPhone 3GS? In the six days since the model was launched, the number of mobile videos uploaded to YouTube has increased by a stunning 400% With the video capabilities of the new iPhone, one can shoot a video and then upload it to Google's video depository site with just one click.
YouTube has said that uploads have increased 1700% over the last six months and part of the reason for this is that it is becoming much easier to use a cellphone to capture video and then upload the results. The 1.5 Android "Cupcake" OS upgrade also included a direct link for uploading video to YouTube. As a result of the greater ease in placing video on the site, we will probably see an increase in videos that are a complete waste of time to watch. On the other hand, with the potential for everyone to become an on-the-spot reporter, news will get to be passed along faster with more accuracy and the video can prove that an event did take place.
source:
TechCrunch