Apple iPhone 3GS Review
56

Introduction:
At first it was just good enough that the Jesus phone was finally being released, and last year Apps took it to a new level. This time around Apple is counting on under the hood improvements to continue driving iPhone sales. The
Apple iPhone 3GS
is the latest and greatest, bringing a faster processor, faster internet, increased graphics and an increase in storage. Memory has also been doubled; it's now available in 16 and 32GB versions, though the 8GB 3G will remain on sale with a new, lower $99 price tag. Last year we liked the
3G
, but felt Apple missed the mark by simply improving on the product rather than pushing innovation. The App Store has proven to be a huge success, but this is on the software side and
2G
owners have benefited just as much. The 3GS threatens to be the same, and with minimal software improvement from 2.0 to 3.0 we have to wonder just how much of an upgrade that little S really brings.
Design:
For anyone who has used an iPhone before there isn't much to say about the 3GS's design. It looks very similar to the 3G, and without a ruler you'd never notice that it is 1mm shorter and a mere 0.1mm thinner. Despite rumors of a matte finish the hard plastic back remains, as do the rounded edges with chrome trim. This time around both sizes are available in black or white. It is slightly lighter than the 3G, almost too much so in our opinion. Plastic housing and lightness don't give the user a reassuring feeling normally, but the glass face helps to overcome this. For a more in-depth look at the design check out our
iPhone 3G review
.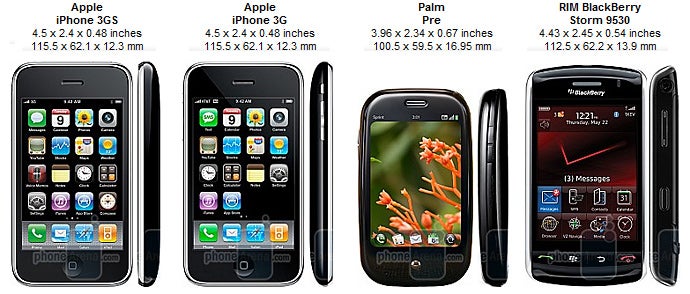 You can compare the Apple iPhone 3GS with many other phones using our
Size Visualization Tool
.
Overall the design
is more of the same, and we'd bet that 99% of our readers wouldn't notice if we reused
last year's pictures
(for the record we didn't…or did we?) It's a good design, but we would have liked to see some of the rumors come true. A front facing camera would be nice, and a soft touch back would have been wonderful. Apple says the materials are more fingerprint resistant this time, and while this may be true they are still very noticeable. There isn't really much to complain about though, it's tried, true and iconic at this point.
Apple iPhone 3GS 360 Degrees View: Recommended Stories