Update to S Health brings a new name and online access to doctors 24/7 (U.S. only)
3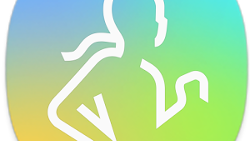 Samsung has updated its S Health app that has been available in the Google Play Store. First of all, it now goes by the name of
Samsung Health
. And it has added a new feature that allows users in the U.S. to speak to a doctor 24/7. The app will be pre-installed on the
Samsung Galaxy S8
and
Samsung Galaxy S8+
. Even those Android users with a different brand printed on their phone or tablet can load Samsung Health on their device, as long as they are running Android 4.4 or higher.
The app tracks your physical exercise and movements, analyzing your daily activities to make sure you are on the way to being healthy and fit. You can set goals for your exercising and track the progress being made. The app monitors your food intake to make sure that you are not consuming too much caffeine, sugar or other items that are bad for your health. The app will also analyze how much sleep you're getting and how much stress you're under. Other important levels are tracked such as weight, blood pressure and blood glucose readings. Some of these require certain third party devices.
The changelist for Samsung Health includes:
Ask an Expert lets you have online doctor visits 24/7 (US only).
Six main types of health management device have been added to Accessories (ACCU-CHEK included).
You can add a custom pace-setter that matches your goals and performance level.
Various bug fixes and improvements applied.
To install Samsung Health on your phone, click on the sourcelink.
source: SamsungHealth via AndroidAuthority