Update to the beta version of Microsoft's To-Do app for Android adds dark theme and more
0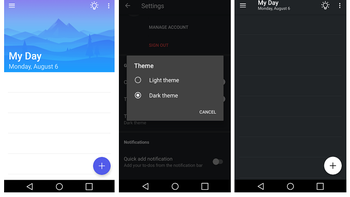 The two words that seem to be spreading widely in the Google Play Store are "dark theme." This setting prevents bright white light from hurting your eyes during the evening when the lights are off. It reverses black text on a white background to white text on a black background.
YouTube recently added this for its Android app
, and there has been talk about Google adding a system-wide dark theme for Android.
The latest app to add a dark theme is Microsoft's To-Do for Android. This is an app that helps you create, monitor and update to-do lists using your phone instead of a yellow pad. The beta version of the Android app is receiving the feature in a new update. The complete changelist reads:
[NEW] Experimental Dark Mode
[IMPROVEMENT] Select theme color while creating or editing a list
[FIX] Recurrence behavior
[FIX] Crash on tablets after completing a task or changing a task title
You'll notice that the dark theme is labeled "experimental," and some changes still need to be made. For example, the lines that separate individual items are harder (but certainly not impossible) to make out in dark theme.
Since we happen to be a beta tester for the app, we took the screenshots that you see at the top of this article. To change Microsoft's To-Do app for Android to dark theme, open the app, click on your avatar, and under General, you will see a heading that says Theme. By default, it is on light theme. Tap on "light theme" and you will see the two options available to you (light theme or dark theme).
To install the app on your Android phone, click on the sourcelink below. After you install it, you will be asked if you want to be a beta tester. Apply in the affirmative if you want to use dark theme immediately. Or, you can wait for the public version of the app to receive the feature in an upcoming update.