Upcoming events and announcements: your guide to fall 2012 in tech
33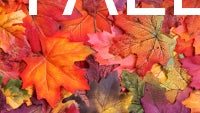 The long summer days might have calmed you down and with no huge announcements in the past couple of months, you might be getting bored of lawsuits and legal scuffle - where's all that exciting tech we're waiting for? Don't worry, before August is over, new technology will start pouring down on you in amounts you'd find hard to digest.
The silence will end abruptly with a brand new phablet - the 5.5-inch Galaxy Note II on Wednesday, and the thunderstorm of new announcements will rage in as the IFA show kicks off on Friday. After that, Nokia and Motorola will fight for the limelight in early September, just before Apple captures the eyes of the world a week later.
Notably missing are LG and HTC, but while both haven't yet announced anything, they will be at the IFA Berlin show and might quietly bring new devices then. We've heard it on the tech grapevine that LG is working on a monster quad-core Snapdragon S4 phone and HTC preparing a bumped up One X, all devices we're eagerly looking forward to.
Check how the big tech companies will fight for your attention in the coming weeks and months, and don't forget to let us know - who you think will win?
Recommended Stories