Apple starts selling the unlocked version of iPhone XR
5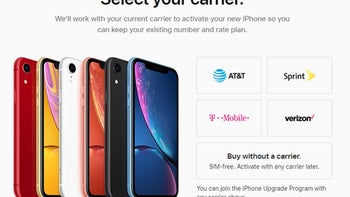 The
iPhone XR
arrived in the United States last month, but an unlocked model wasn't available for purchase from the Apple's online store. Although all carriers in the US offer the option to unlock your smartphone for free, in some cases you have to wait more than a month to become eligible.
Luckily, customers who want to purchase the unlocked version of the iPhone XR can do so via
Apple Store
starting today. Spotted by
Macworld
, the unlocked variant may have been added in the last couple of days since it wasn't available last week.
The unlocked
iPhone XR
comes in three variations – 64GB, 128GB and 256GB, which cost $750, $800 and $900, respectively. All versions seem to ship in 1 business day, so you won't have to wait too long for your new phone.
AT&T allows customers to unlock their
iPhone XR
after about two weeks, while T-Mobile and Sprint will let you unlock your phone after more than a month. On the other hand, Verizon doesn't lock the 4G LTE phones it sells, so you can use any SIM card you want with the iPhone XR.