UPDATED:myTouch 3G 1.2 looks exactly like the original?
2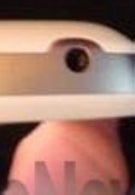 The myTouch 3G 1.2 is not a major overhaul of the original unit as you can tell by the name of the unit. It's not myTouch 3G 2.0 after all, so the fact that the only change appears to be the placement of a 3.5mm audio jack to the top of the handset shouldn't surprise anyone. What might come as a surprise is the possibility that like the Fender Limited Edition, the 1.2 has 288MB of RAM, a healthy increase from the 192MB in the original model. After all, the Fender edition of the phone also has the audio jack placed on top, so why shouldn't the 1.2 model also have the increase in RAM? The 1.2 version of the myTouch 3G is expected to launch February 10th.
*UPDATE*
Tmo News now says that the Fender Limited Edition modelof the myTouch 3G has 256MB of RAM, not the 288MB originally stated.Why is this important? Because based on the fact that the Fender LE hasthe 3.5mm audio jack in the exact same location as the myTouch 3G 1.2,it is feasible to guess that the latter model also has 256MB of RAMinstead of the 192MB in the unit that Chevy Chase almost dropped in thead.
T-Mobile myTouch 3G Specifications
|
Review
source:
TmoNews