UPDATED: LTE-powered Samsung Craft now proudly advertised by MetroPCS
0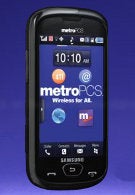 It feels like it is taking forever for carriers to deploy their 4G LTE networks, right? Well, fear not, because MetroPCS is here with the world's first LTE handset – the
Samsung Craft
, which is now available for purchase!
MetroPCS is obviously going all out to introduce the features of the Craft, as well to finally present us with a clear view of the device in question. In terms of design, the Craft looks like your typical Samsung phone, but still, it is a nicely-equipped featurephone with a 3.3-inch WVGA AMOLED screen, 3.2MP autofocus camera, side-sliding QWERTY keyboard and, of course, 4G LTE connectivity, where that is available.
And where is it available? Why, the place that every person who thinks he/she can dance wants to go to – Las Vegas! Param pam pammm... At least for now, that is. Listed upcoming markets are Dallas, Detroit, Los Angeles, Sacramento, Central Florida, Boston, Philadelphia, North Florida, South Florida, San Francisco, Atlanta, and the city where all superheroes seem to come from – New York City.
UPDATE:
You can now purchase the Samsung Craft at retail stores or online in
Las Vegas
at a price of
$299
.
Samsung Craft Specifications
source:
MetroPCS