Toshiba Excite 10 goes on sale with Tegra 3 and ICS
1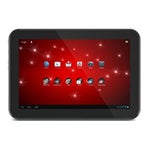 After our
hands on
the Toshiba Excite 10 last month, we were excited to find out when we could shell out money for some actual kit. Today turns out to be that day, and the Tegra 3 tablet can now be purchased at Amazon and other "select online retailers" for $449.99. And you won't have to wait for Ice Cream Sandwich, as it comes installed out of the box.
The Excite 10's Tegra 3 is four cores of 1.2GHz goodness, the screen is a 1280 x 800 IPS LCD, you get the usual front and rear cameras (2 MP and 5 MP respectively), and a svelte body that is just 8.9mm thick and tips the scales at a mere 600 grams (as a point of reference, that's a hair thinner and lighter than the new iPad).
The $450 will net you 16GB of storage – the 32GB and 64GB options naturally run the price up, to $529.99 and $649.99. Those prices undercut the iPad by $50 (except the 32GB version, which comes in at $70 less). Does that make it a bargain? That depends on what mobile ecosystem you are tied into, and how you feel about display resolution. The Excite is certainly a nice tablet, and the quad-core Tegra 3 is blazing fast, but you won't get that lovely Retina Display-like resolution.
It's also worth noting that Samsung's Galaxy Tab 2 is available
for $399.99
, making the Toshiba Excite 10 a harder sell than it otherwise would be. Still, it's a well-made tablet, so if you're looking for an Android alternative to the iPad and you aren't a fan of Touch Wiz, the Excite may be just your thing.
source:
Amazon
via
Android Authority