Toshiba Excite 10 hands-on
3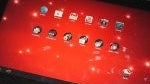 Moving along to the
Toshiba Excite 10
, the middle child in family
scrunched between the Excite 7.7 and 13
, it's actually the most normal of the trio – mainly because it's boasting a tablet size that's been established to be at the upper end of the spectrum.
Clearly, we already begin got notice that the trio of new Excite tablets employ the same the design characteristic, as the Excite 10 follows accordingly with its
silver plastic body
. Donning the same textured casing found with the Excite 7.7, it allows us to handle the tablet with ease using both hands, but as whole, there's nothing particularly exciting about its looks. To tell you the truth, it falls close in line to being generic with its design – yet, it feels lightweight and appears somewhat streamlined.
With the display, it lacks the pizzazz and allure found with the one in use with the Excite 7.7, mainly because it sticks firmly to using a typical
10.1" WXGA (1280 x 800) LCD panel
– so yeah, very much cookie cutter in this area. However, the star of the show remains to be the lighting fast
quad-core NVIDIA Tegra 3 processor
it's running under the hood. Much like what we've seen already with the Asus Transformer Prime, the Toshiba Excite 10 screams profoundly with all of its operations – with barely any evidence of slowdown or lag.
Perusing around the platform, it's obviously running Android 4.0 Ice Cream Sandwich, and so far, it remains to be a faithful vanilla experience. As for the rest of the tablet, it features a 5-megapixel rear camera with flash, 2-megapixel front-facing snapper, full-sized SD slot, microHDMI port, microUSB port, Bluetooth, 802.11 b/g/n Wi-Fi, and 3.5mm headset jack. Expected to hit retail shelves soon, the Toshiba Excite 10 is going to retail for
$449
from the onset. Moreover, we're told that it'll be available in 16GB, 32GB, and 64GB capacities.