This suspected HTC One M9 Plus wallpaper suggests a Quad HD display
38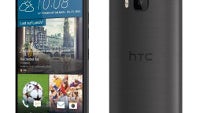 Excited about HTC's upcoming announcement of the HTC One M9? If you are, chances are that you've been keeping your ear to the ground, hoping for as many details as possible. The wallpaper stack that will supposedly come loaded on the M9 – glimpses of which we've been receiving on a daily basis for the past week – certainly qualifies.
We have two updates since Friday, when we last blogged about this. First off, we have two whole new wallpapers ready for download. And second, it is looking like the last one was ripped from the One M9 Plus' firmware, not the One M9's, seeing as its rocking a 2880 x 2560 pixel resolution.
Indeed, if you've been keeping track of this particular side story to the One M9, you'll know that the walls we've seen so far all had a resolution of 'just' 2160 x 1920 (scrollable), suggesting a 1080 x 1920 display for the smaller flagship. In case you didn't know, word on the street is that the One M9 Plus will have a slightly larger (5.1 or 5.2 inches), more pixel-dense screen.
Check the collection we've compiled so far right below, along with the latest (supposedly official) renders of the 5-inch HTC One M9.