The new midrange: best Android phones with HD 720p displays
45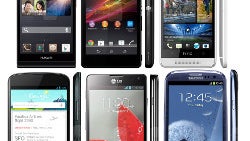 The fight in the mobile phone universe is
now shifting midstream
, after five years of flagship brawl running unabated. All players are suffering from a
flagship fatigue and market saturation at the high-end
, so they are reshifting positions for the exploding Android midrange opportunity.
What are the current midrangers offering, though, and are they worthy of the nascent landgrab that is about to ensue in the category? Good midrangers these days start you off with a 720p display, which means we'll have both H1 2013 entrants, and last year's flagships in the slideshow below.
We are rounding up a few of the best representatives of the upper midrange echelon that typically go for less than half a grand without contract subsidies, to help you choose in the $300-$500 SIM-free price range.