Samsung and HTC shares get battered to new lows on flagship smartphone slowdown
66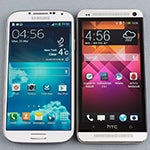 Samsung's shares extended their drop in Korean trading, after they were
skidding on Friday to a 9-month low
due to the flagship smartphone business diminished guidance.
In the meantime another flagship Android maker, HTC, got punished in the market. It met its guidance, but not investors' expectations, which were eagerly awaiting the results from the
HTC One
sales. As a result, shares in the Taiwanese company dropped to a 7-year low.