The best red smartphones - for Christmas 2013 and not only
33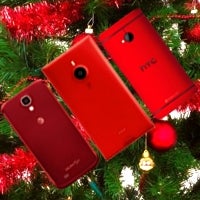 Whether you are celebrating Christmas or not, you
do
know that one of its traditional colors is red - also the color of love, passion and generally positive things. Well, okay, your phone's battery status indicator going red is definitely not on the positive side, but that's a whole different story. Anyhow, we totally understand why smartphone manufacturers, from major to less important ones, are continuously looking to include red among the color versions of their products. So, with Christmas upon us, we thought this would be a great time for putting together a list of the best red smartphones out there.
Unsurprisingly, you'll find more than just one Samsung handset in the list. The South Korean company is well-known for offering various color option for many of its devices, and red hasn't been forgotten. HTC, Nokia, Motorola and Sony are also present.
Missing from the sea of devices that you're about to discover below is Apple. Although Cupertino has diversified its iPhone color range with this year's two new models, it has yet to make a red phone. Sure, we have the pink iPhone 5C, but pink is just not what we're after right now.
We left out the Moto G - because, to get it in red, you need to pay an extra $14.99 for a changeable back shell, while all the other handsets can be had in this color at their regular prices. Yes, we know that even with the extra $14.99 the Moto G remains very affordable, but, still, it does not count as a red smartphone.
All clarifications being made, let's dive in and see what red smartphones you should consider as a gift this Christmas - there's still time! - or as a regular purchase after the holiday season ends (if you really like the color, nothing should stop you from getting a red handset at any time of the year).
The best red smartphones, 2013 edition