The best Bluetooth keyboard cases and folios for the iPad Air, iPad mini and iPad 4
2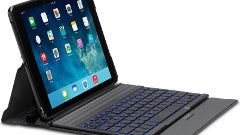 The
iPad Air
, and the iPads before it, are mostly considered to be web and media consumption devices, not suited for creative works, with the on-screen keyboard and all that. So many people are using Apple's tablets as their main computing device, however, that the iPad franchise is probably the most accessorized tablet line out there. If it doesn't have a feature or an option out of the box, chances are that there is a case and accessory maker that has a solution in place.
You can see people with
iPads all around corporate offices now
, lugging them around as their main gadget, and even
BYOD policies have been created
to accommodate the love for the tablet. To turn your iPad Air into a much more productive device, the obligatory requirement is a nice keyboard folio, or a separate Bluetooth keyboard. With them the iPad, or any tablet, for that matter, becomes a decent content creation device, akin to a tiny notebook. That's why we are rounding up some of the best folios and dedicated keyboard accessories for the iPad, to help you turn it from a media consumption gizmo, into a more serious productivity machine. We are listing the MSRP tags, but don't forget that you can find most of these at places like Amazon and the like for much, much less.