The art of stealing iPhones: Chinese man pickpockets a woman on a bike using... chopsticks!
29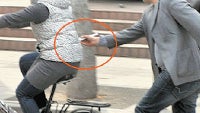 You might have heard that
thieves have a trained eye for smartphones
and especially the iPhone. But combine that with creativity and dexterity and you get a story that would seem unreal if it was not caught on camera - a thief in China stole an iPhone from a woman riding a bike using... chopsticks! And some of us are struggling to even eat food using chopsticks!
The skilful robber is captured running after a woman on a bike after he spots an iPhone in her pocket and unnoticed he steals the device with the aforementioned chopsticks. Let's make it clear - the woman was riding the bicycle, not standing still and she kept on pedaling after that, obviously unaware of what just happened.
What's interesting is that the thief is a well-dressed man, wearing a suit and not looking like someone that would rob an iPhone using chopsticks. Then again, we never thought something like that was even possible.
Later the robber, named Wang, would confess that he stole things to help support his young daughter. Pictures of the robbery were all over the Chinese web and the man eventually surrendered himself to police on April 9th.
source:
Kotaku