iPhone most coveted by thieves
11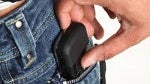 Do you know what is the common thing between the cities of
Greenwich
, CT and
Paris
? Thieves there want Apple goods
badly
. So badly that Greenwich thieves burglarized an Apple Store in the upscale town, while half of the thefts in the French capital's public transportation system are phone thefts (mostly iPhones).
Five are the suspects coveting Apple goods in the Greenwich
smash-and-grab burglary
, which happened around 3 am early Tuesday morning. Apple Stores have easily breakable glass doors and are full of high-end Apple-branded products, which makes them all the more susceptible to theft. The exact amount of stolen goods was not specified, but it is in the range of tens of thousands of dollars. Previously, Apple Stores in Illinois, Pennsylvania and New Jersey have fallen victim to burglars as well.
And if you think that things are different across the pond, you probably haven't visited France recently. Thieves there are rarely looking at bags now – the most commonly targeted items are
phones
.
Paris police chief Michel Gaudin warned that "almost one in every two thefts on public transport now concerns a mobile telephone, while 'classic' wallet or purse thefts represent only 33 percent of incidents." iPhones account for nearly half of all stolen phones and BlackBerry handsets are also hot on the thieves' wish lists. Curiously, 70 per cent of all stolen phones were smartphones. With this news in mind, do you think that we should consider more
phone insurance
these days?
source:
AppleInsider
and
Yahoo! News