The Trump Phone makes smartphones great again (Humor)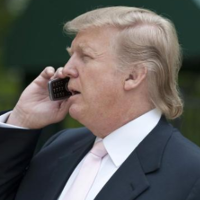 Even the most casual observer of the American political landscape is well aware of the presidential campaign being run by billionaire real-estate tycoon Donald Trump. Also known for his hair, and his hit television show "
Celebrity Apprentice
," Trump shoots from the hip, often leaving political analysts with their mouths open in shock and horror.
Trump's bank account is only exceeded by his ego. We are pretty sure that there isn't an
Apple iPhone 6s
,
Samsung Galaxy Note 5
or a
Motorola DROID Turbo 2
in his pocket. In fact, we're surprised that he hasn't already commissioned a manufacturer to produce the Trump Phone. The tag line on ads for the device would be, "
Making Phones Great Again
."
So what would we find on the Trump Phone? Well, it would be made of 24K Gold, of course, sporting a 5.2-inch screen with a 4K resolution. The front-facing selfie camera turns you into Trump by adding his legendary hair to the top of your head. Ah, we don't want to spoil the rest of the joke by giving it away.
Check out the rest of the features for the Trump Phone by clicking on the slideshow below.
The Trump Phone
Thanks for the tip!
source:
Typhone.nl