The Motorola Moto G (2014) is down to just $139.99 for a very limited time
8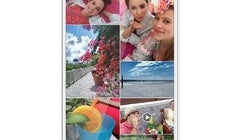 Motorola's smartphone line-up is impressive without being too expansive. There's a handset for every occasion, it would seem, and with the forthcoming
third-gen Moto X
being the center of attention right now, some less feature-rich models can still pack a punch. The
second-gen Moto G
, for example, ticks every box you'd expect of a mid-range smartphone, save the paltry one-gig of RAM. The Moto G (2014) has been nicely-priced since its inception, and thanks to a discount at Amazon, the device can now be snagged for the sum of just $139.99.
This limited-time offer equates to $40 off the usual $179.99 price point, and if you're willing to forgo 4G LTE and contend with the bare-bones RAM offering, it's a steal.
With a 5-inch, 720 x 1280 display, it's essentially a larger version of the Moto E range. Under the hood, you get a quad-core Snapdragon 400 processor, allied to an 8-megapixel main shooter and a 2-megapixel offering for selfies. Out of the box, the Moto G (2014) packs 8GB of storage, which doesn't give too much room for manoeuvre, but as with most of Motorola's handsets, you can expand by means of the microSD slot.
Another winning aspect of the Moto G (2014) is that it runs Android 5.0 Lollipop. This means that when you fire the device up for the first time, you'll be blessed with Google's rather eye-catching Material Design, as well as the numerous other bells and whistles to be found within the fairly-new software. Since it's a Motorola, it runs close-to-stock Android, too, which is a plus if you appreciate a no-frills experience with minimal bloatware.
If you'd like to take advantage of the offer, which expires in around 12 hours, then hit the source link below. Also, if you'd like to learn more about the Moto G (2014), be sure to check out
its head-to-head showdown
with the original Moto G.