Motorola Moto G 2014 vs Moto G 2013
13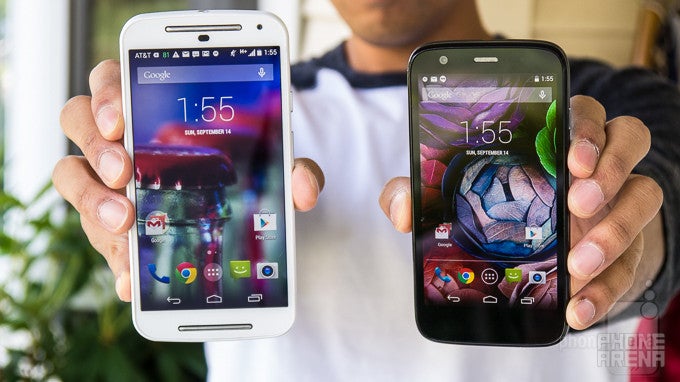 Introduction
Smartphones are increasingly becoming cheaper, making them disposable to a wide array of people. On one side of the spectrum, we have cream-of-the-crop devices that deliver cutting-edge experiences – while on the other, entry-level devices help newbies, or those on a budget, to experience all of the features and power of a smartphone. And that's without the hefty cost normally associated with them. Being one of the more prominent ones recently, the 2014
Motorola Moto G
seems like a considerable step up to its predecessor in last year's
Moto G
, but by how much really?
Design
Let's be frank here folks, these two handsets aren't graced with stylish designs, but despite that, they're noted for the subtle design customizations they have to offer – where their rear casing can be replaced for other ones. Visually, the two share the same design language and decent construction. At the core of it all, though, is the difference in size between them. Due to the original's more compact and lighter frame, it's undoubtedly the more comfortable one to grasp with a single hand.
Display
Similar to their designs, the only two separating their display are their sizes – so depending on your taste, either one will suffice. Sporting the larger 5-inch 720 x 1280 IPS LCD display, the new Moto G's size is more akin to today's flagship smartphone, as opposed to something in the budget segment. Meanwhile, the 2013 made Moto G is packing a modestly sized 4.5-inch 720 x 1280 IPS LCD display – one that we feel to be a more fitting size for this caliber smartphone.
What's interesting, however, is that it seems as though Motorola has outfitted the older model with a slightly more high-quality display. Why is that you ask? Well, after running various display tests, we find that the old Moto G's screen to offer the better brightness output (429 nits versus 390 nits), color temperature (7625 K versus 8290 K), and color accuracy. To the average person, they'd hardly notice the slim advantage with the original Moto G's display, but they're there. At the end of the day, the biggest change here is simply the increase in size.
Display measurements and quality
Recommended Stories