The HTC U Ultra is now on sale in Europe through QuickMobile
8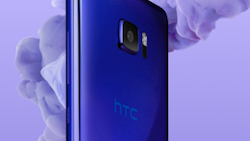 The U Ultra is the latest flagship phone from HTC since last year's HTC 10, and while the spec-to-price ratio isn't the best that we've ever seen, it's still got a lot of people talking. The secondary display, AI features scattered throughout the operating system, and slick glass construction are all quite enticing, and although we won't be able to dish out any final judgement on the phone until we conduct a full review, you can certainly count us interested in the latest from HTC.
Customers in the the United States, United Kingdom, and Taiwan have been able to purchase the phone for some time now, but it looks like it's just now made its way over to HTC fans in Europe. Our European readers can currently purchase the U Ultra through QuickMobile, with the 64GB variant selling for RON 3,899.90. That translates to about $910 USD, and it's quite a bit pricier than the US model of the phone that's selling for $749.
The HTC U Ultra's high price tag has been a major turn off for a lot of potential customers
Believe it or not, this isn't the only model of the U Ultra that features a USD conversion price of more than $900. Customers over in Taiwan can purchase
a version of the phone that's clad in a premium sapphire finish
with a price tag of about $920 USD, and although the price is extremely high, it's also the most premium variant of the phone that HTC is selling.
There's been a good bit of controversy surround the HTC U Ultra and its steep price tag in a market that features so many high-quality handsets for a lot less money, but there's no getting around the fact that this is one of the most attractive and interesting devices that HTC has kicked out in some time. Will it be worth that high cost of admission? Only time will tell.