The clone army is always ahead: counterfeit Galaxy Note 9 units already out in the wild
13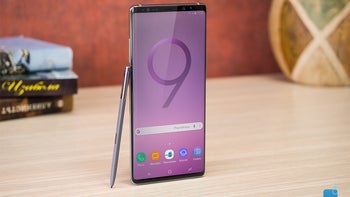 Who doesn't love the underground counterfeit culture? Whenever a hot phone hits the market, a bunch of underground companies launch devices that try to copy it to different levels of success... or hilarity.
In recent years, bootleg device slingers have had the audacity to build and launch their counterfeit smartphone models even before the handset they are copying gets its official announcement. So, it's no surprise that we now get the treat of a fake
Galaxy Note 9
pop up in real life photos.
The device can be seen in the three color options that we expect the actual Note 9 to launch in — black, blue, and gold. The frontal pictures reveal that the Samsung Experience UI has been copied quite convincingly, though, the wallpaper does look more like something from the Note 8 era.
But the bezels... oh wow, do they give it away or what! From all sides, the phone's frame is thicker than the one even on last year's Note 8 and the Samsung-signature Edge design curve is much, much less pronounced. It looks more like a malformed Pixel 2 XL. Also, there seems to be something off with the camera module on the back. The spot that should hold a lens in the middle there doesn't seem to hold a camera at all.
We are quite sure that, as time progresses, much more accurate copies of the Galaxy Note 9 will pop out of the woodworks. So, let this be a reminder — be careful what and where you buy, guys.
Recommended Stories