The Apple Watch is down to just $199 at Best Buy
81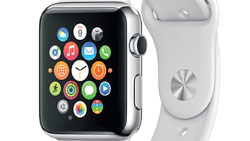 There was plenty of excitement in the run-up the
Apple Watch
, which hit the scene just over a year ago.
Initial sales sharply dwindled
following a fair amount of early hype, and it remains to be seen whether this product category has a long-term future. Still, Apple is said to be pressing ahead with the
second-coming of its wearable
, which could be announced alongside the next-gen iPhones in the coming weeks. The impending nature of the new hardware means that the current model is cheaper than ever — down to below the $200 mark through Best Buy.
UPDATE: The $199 variant appears to have sold out already.
Right now, the basic Apple Watch Sport 38mm edition in Space Gray is down to $199. It's a considerable saving on the original starting price of $349 when the Apple Watch was launched, and $100 less than Cupertino currently charges. Sure, it's not as cheap as certain other wrist computers on the market. But with watchOS 3
set to add bunch of new features
to the fold, now's your chance to grab the device itself for under 200 bucks.
Apple Watch 2 will apparently amount to a refresh as opposed to a major overhaul. Previous rumors of an in-built camera seem to have died down, and there will not be cellular support despite some users hoping for such connectivity. Instead, there'll apparently be GPS, improved waterproofing and the customary speed bump. In line with the next-generation iPhone upgrades, the new Apple Watch will look similar if not identical to the current fleet.
Aside from the aforementioned Space Gray version, a number of other Apple Watch variants are currently available at for less than you might have seen before. If you have been waiting patiently for an Apple Watch price-drop, you can check out all of the current offers in full at the source.
Recommended Stories