The $105 Xiaomi Redmi 3S brings a metal body and fingerprint scanner to the lowest Android phone tier
13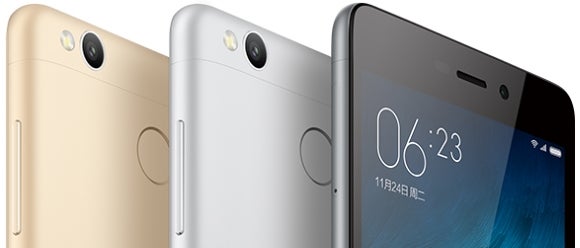 Chinese vendor Xiaomi stays true to its "give the most for the price" success mantra, even when it comes down to its lowest catalog tier. The new Xiaomi Redmi 3S is a showcase of how much tech can be (reasonably) given away for the equivalent of $105 (699 Yuan), which is how much the base model starts at.
The Redmi 3S is a bit of an iPhone lookalike that's sold in familiar Gray, Silver, and Gold colors. Its body is metal, although the top and bottom parts appear to be made of aluminum-imitating plastic to solve signal reception problems. Its 5-inch IPS display runs at a 720 x 1280px resolution, while the back of the phone is graced with a fingerprint scanner – a particularly nice treat for budget-minded users.
The Redmi 3S is equipped with a 13MP main camera with f/2.0 aperture, phase-detection auto-focus (as fast as 0.1 seconds, according to Xiaomi), HDR mode, manual controls, and a single LED flash, among other niceties. The front cam is a 5MP unit with f/2.2 aperture size and face recognition. Both cameras can record video in up to 1080p resolution.
Running on a Qualcomm platform, the Redmi 3S supports the essential connectivity standards and sensors, although network support is limited to Chinese networks and there's no NFC. The phone runs Xiaomi's MIUI 7 interface, whose many bundled app and content stores that cater to Chinese users will play a major part in how the company will profit from such a low-cost device.
While the Redmi 3S' value for money ratio might seem incredibly alluring, Xiaomi's handset is targeted towards customers in China (possibly neighboring countries, too) and won't see a global release anytime soon. Importing the phone doesn't make for a solid idea, as limited network compatibility, re-seller markups, shipping and import taxes, and lack of warranty and customer support will turn it into a poorly spent $200 (or so).
Still, it's remarkable that Xiaomi is bringing features like a metal body and fingerprint scanner to the lowest of low-priced Android smartphones that still stand up to modern standards. We expect competing manufacturers like Huawei and Meizu to follow suit in the months ahead.