Texas Instruments to produce dual-core 1.5GHz processor for second half of 2011
2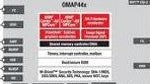 Texas Instruments has announced that production will start in the second half of 2011 on a dual-core processor clocked at 1.5GHz. The OMAP 4440, when compared to the OMAP 4430 previous model, presents an increase of 1.25 X in graphics speed, lowers the time to load up a web page by 30% and doubles the speed in 1080p video playback capabilities.
Unfortunately for TI, one of its biggest customers, Motorola, has already decided to go with NVIDIA's Tegra 2 dual-core processor for its Android based tablet and for its flagship smartphones (Motorola Olympus on AT&T and the Motorola Etna for Verizon). So the question is, who will be purchasing these chips and for what product? Because production is not starting until the second half of 2011, any phone or tablet using TI's new processor won't be coming to market until about a year from now.
The new OMAP 4440 will be able to support 1080p stereoscopic 3D playback (meaning 3D with no glasses) and will support two 12MP cameras in parallel which means it offers the ability to shoot pictures in 3D. Add this to the improvements in browser and graphic speed, and you can see why we are anxious to learn if any handsets are being developed with this new chip set.
source:
AndroidandMe