Teaser leaks for the phone that will be one of the cheapest 5G handsets available
4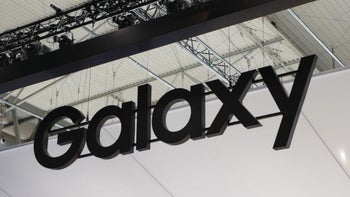 The Galaxy A range was revamped this year in an attempt to take on value for money manufacturers like Xiaomi in certain markets like India. The line launched in March and after the first 70 days, it sold over 5 million units generating over $1 billion in revenue for the manufacturer. Phones like the
Galaxy A10e
,
Galaxy A20
, and
Galaxy A50
have been imported into the U.S. and the Galaxy A90 5G could follow suit.
The Samsung Galaxy A90 5G could be unveiled at the IFA show in Berlin next week

The Galaxy A90 5G (SM-A908N) is expected to sport a huge 6.7-inch notched Super AMOLED display and a 1080 x 2400 resolution. The tall and thin screen features a 20:9 aspect ratio and the Snapdragon 855 Mobile Platform will be under the hood along with a Snapdragon 5G modem chip. 6GB of memory is included along with 128GB of storage. Samsung has promised to endow the Galaxy A line with quality cameras and large batteries, and this model is no exception. A 4500mAh capacity battery will keep the lights on and the handset is equipped with a triple camera setup. The latter includes a 48MP primary snapper, an 8MP ultra-wide-angle camera, and a 5MP depth sensor; the latter will improve the all-important bokeh effect on portrait photos.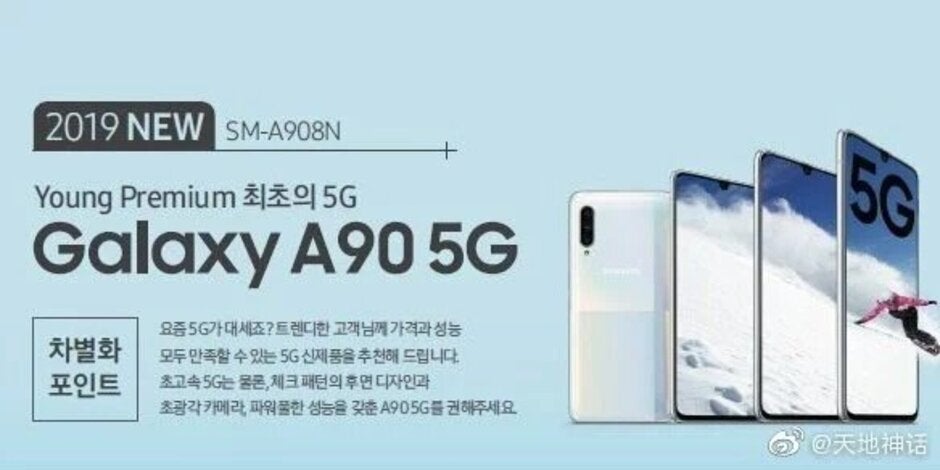 Teaser leaks for the Samsung Galaxy A90 5G
With the annual IFA show in Berlin kicking off a week from today (it runs from September 6th to September 11th), the odds are good that we will see Sammy take the wraps off the Galaxy A90 5G next week. The phone will be offered in countries where 5G service is available. 5G is the next generation of wireless connectivity that will deliver download data speeds up to ten times faster than 4G LTE. Once it is offered coast to coast in the U.S. next year (with T-Mobile expected to finish its network first), 5G will be on its way to giving the economy a boost as it will allow for the creation of new businesses and industries.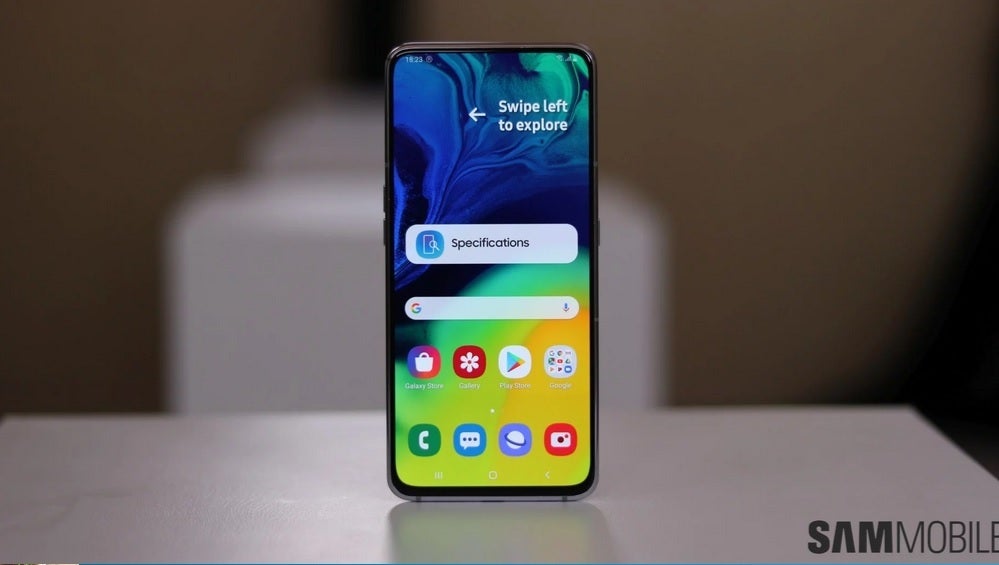 The Samsung Galaxy A90 5G will reportedly be unveiled next week at IFA in Berlin
For 5G to take off though, phones that support the next generation of wireless connectivity will have to be affordable for most of the public. You can safely figure that it will take three to four years before U.S. consumers are ready to fully embrace it. For many, 4G LTE speeds seem zippy enough. However, when you realize that the HD movie you just spend 25 minutes downloading on your phone will load on a 5G handset in seconds, demand will start to rise for compatible models. Obviously, it isn't just the difference in loading a movie that will stoke demand. Consumers will eventually feel that their 4G LTE phones are too slow compared to the 5G phones owned by their relatives, friends, and neighbors. It's called keeping up with the Jones, and that will lead a moribund smartphone market to experience growth once again. During the second quarter of this year, Gartner reported that 1.7% fewer phones were sold (not shipped-sold) globally compared with the same time period last year. Samsung led the way with sales of 75.11 million handsets during the three months.