T-Mobile will launch the Samsung Galaxy Note5 and S6 edge+ tomorrow, skips pre-orders
40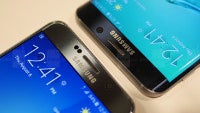 While Verizon, AT&T, and Sprint will all launch the
Samsung Galaxy Note5
and the
Galaxy S6 edge+
on August 21, the two smartphones will be released on T-Mobile - the
nation's third largest carrier
by subscriber count - starting tomorrow.
This past weekend, we came across reports revealing that Samsung's two new premium phablets are already starting to ship to lucky AT&T customers who have pre-ordered the Galaxy Note5. More recently, other reports of early pre-order shipments surfaced online, this time from Verizon customers. However, despite these early shipments, the Galaxy Note5 and the Galaxy S6 edge+ are not officially available for online orders from any of the two carriers.
T-Mobile, a carrier that has not announced pre-orders for the Note5 and the S6 edge+, will open up orders for the two Samsung phablets tomorrow at 6AM PST. T-Mobile CEO John Legere announced the move on Twitter, along with the mention that orders will start shipping ASAP.
T-Mobile is not allowing the hype - limited as it is - to slow down after
Samsung's recent Unpacked event
. Although the new
Galaxy Note5
and Galaxy S6 edge+ will not get mistaken for anything besides premium products, it looks like reception has been lukewarm generally speaking.
If you're interested in learning more about Samsung's two new 5.7-inch phablets before T-Mobile opens up for orders tomorrow, make sure to check out our
Note5 hands-on
and
S6 edge+ hands-on
pieces, as well as the personal opinions of our team. One tiny caveat to T-Mobile's launch that should be mentioned is that those on the carrier's Jump! On Demand customers will have to wait until August 21 to get their hands on a new Samsung phablet.
What do you guys make of T-Mobile's early Galaxy Note5 and S6 edge+ launch?