Samsung Galaxy Note5 hands-on
18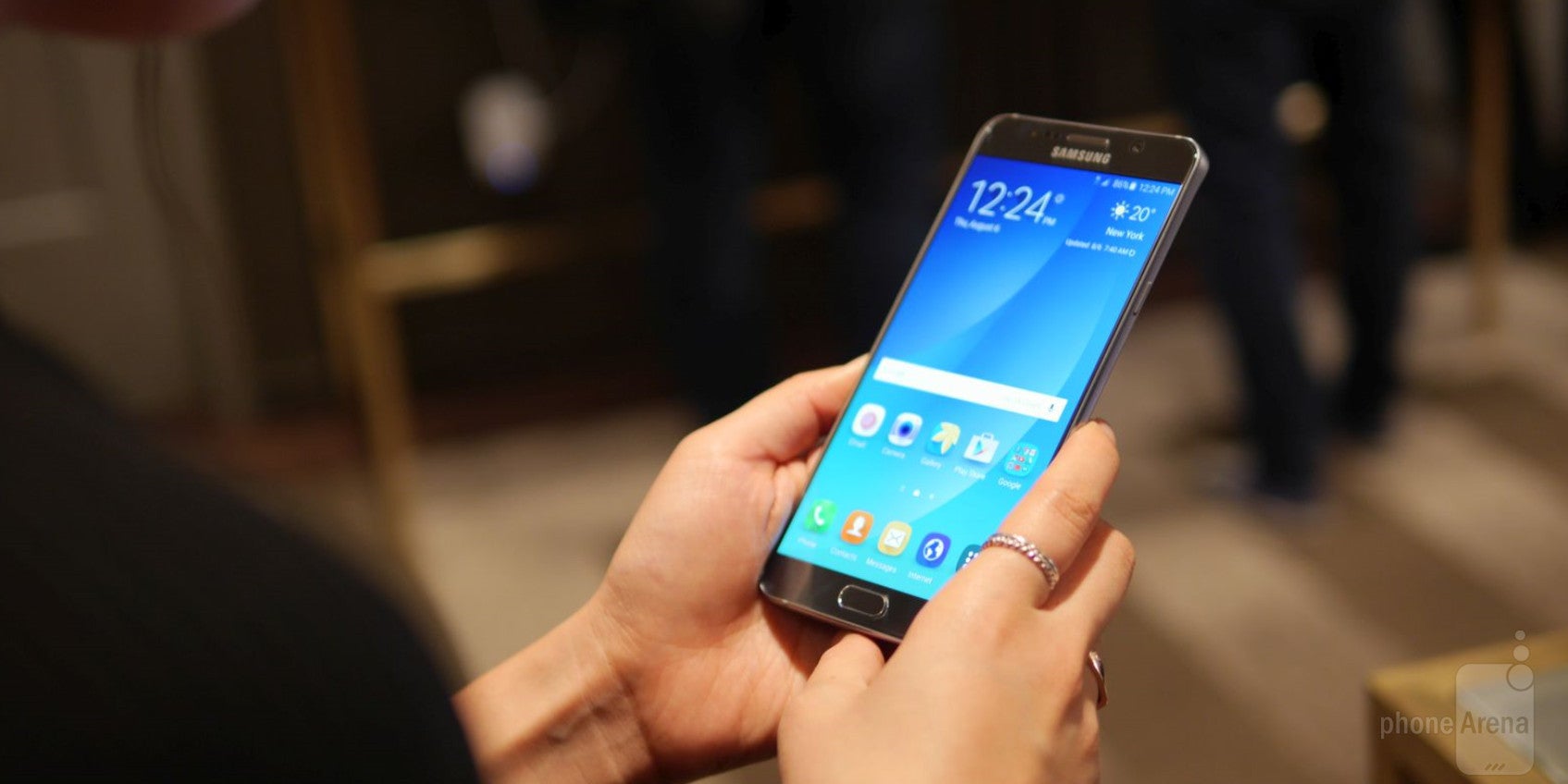 Ever since its arrival several years ago, Samsung's Note series has been a constant light in the phablet segment. With each and every iteration, they're pushed the threshold in what it can do – and how many features they can continue to pack on. Undeniably, the Galaxy Note series has been heralded as the Swiss Army Knife of smartphones, not only for the high-end gear it's normally outfitted with, but as well for the added functionality that accompanies it. The S Pen, specifically, has somehow reintroduced the significance of a stylus, which at one point, seemed destined for extinction with the introduction of the capacitive display.
Samsung has already stirred things up with the launch of the Galaxy S6 earlier this year. That phone introduced a brand new design philosophy that we haven't seen quite before with Samsung, as they're able to shed their prior reputation of employing boring designs. With its latest effort, the Samsung Galaxy Note5, they intend on continuing to be a relevant and formidable player in the industry for the rest of the year. One exciting new change to the beloved phone includes its updated styling, which follows after the S6 – while still paying homage to power users by being features filled.
Design
Gone is the sophisticated design language with last year's model, which followed in the design style of the Samsung Galaxy Alpha. Certainly, it was a refreshing new direction for the Note series, but Samsung doesn't disappoint either with its latest prized possession in the Note5. In true fashion, the Note5 employs the updated, premium design language that was established by the Galaxy S6. The result, naturally, is metal meeting glass once again for a mashup that's absolutely premium and solid in every facet.
While it's a stark change from last year's design, it's not something necessarily new per se. Regardless, though, it looks incredibly gorgeous by the way light bounces and reflects off its surfaces. Size-wise, it's still a handful to operate, making two-handed operation almost necessary, but they're able to trim off some of the fat to technically make it a thinner and lighter successor.
Another new change to the Note5 is related to the S-Pen itself, which is still hidden away along the lower right corner of the phone. Previously, it just slid in and out of the slot, but for the Note5, it's now spring activated. Press down on it slightly, the end of the S-Pen pops out of the slot – where we can proceed to take it out. It's a different approach, but for some reason, it feels alien to us; never feeling too natural for us. Honestly, it would've been better to place it on the top right corner, as pressing on it with our index finger feels more natural.
Beyond that, this Note5 is treated to nearly the same arsenal we see in the S6 – so that includes the same updated fingerprint sensor, heart rate sensor, wireless charging, and rapid charging. Sadly, there's no IR blaster whatsoever on this phone, which is rather disturbing thinking that the series has been known to be the Swiss Army Knife of smartphones. Samsung tells us that the decision was made to not offer one because it's a feature that customers rarely use in its phones.
Display
Part of the most compelling things about the Note 4, besides its premium design over its predecessor, was the fact that Samsung pushed forward to offer a Quad-HD screen with the Note 4. Well, it's become the standard resolution for all high-end phones nowadays, so it's not all that shocking to find it here again with the Note5. It's still a 5.7-inch 1440 x 2560 Super AMOLED display, and it's still a beautiful looking thing!
Just looking at it, the screen shines brilliantly and exhibits all the classical qualities of AMOLED technology. Viewing angles are wide, colors are on the saturated side, and you get that true deep black color. Considering that Sammy has perfected the art of delivering perfectly calibrated AMOLED displays, we can only presume that this one will accurately reproduce colors in the sRGB color spectrum chart.
Interface
Playing around with the Note5 for a little bit, it's running the latest version of Samsung's TouchWiz UI on top of Android 5.1.1 Lollipop. Superficially, there doesn't seem to be any significant changes to the interface's presentation and functionality – so it's essentially the same as the Galaxy S6 and its variants. That's not a bad thing, honestly, as Samsung has taken a totally new approach of toning down the experience. While there's not as many redundant software features, it still lays claim to some of the popular TouchWiz features; such as Multi-Window for true side-by-side multi-tasking.
Knowing that this is the Note5 we're dealing with, Samsung continues to enhance its various S-Pen specific features. For starters, when pulling out the S-Pen, we can instantly utilize its new screen off memo feature to quickly jot down a message when the phone is asleep/unlocked. Secondly, the Air Command window stays on longer than before when taking out the S-Pen while the phone it on. Other new enhancements include the ability to write on a PDF file, shortcut to frequently used apps, and annotating on captured screen shots.
Even though there's nothing drastically different, it's an experience that caters to a wide range of users – both basic and power. On top of that, the Note5 and Galaxy S6 edge+ share new common features that help to strengthen its usefulness over other experiences. To be more exact, they include live broadcasting with YouTube, ultra high-quality audio that upscales local and streaming audio content, support for SideSync 4.0, and Samsung Pay enhancements for quick access to your choice of payment from the lock screen.
Processor and Memory
Going in-house once again, Samsung tells us that they've fashioned the Note5 with the same chipset powering the S6 – a 64-bit Samsung Exynos 7 octa-core processor based on the 14nm manufacturing process. Most of us imagined something slightly different, but we gather that the S6's outstanding performance already proves that the Exynos 7 is more than equipped for the job at hand here. However, unlike the S6, the Note5 is upgraded to a more generous 4GB of LPDD4 RAM.
Spending just a short time with the Note5, we can tell you that it's fast and responsive. Any more responsive than the S6 and its variants? Well, that's tough to say right now, but rest assured it'll more than be capable of handling whatever is thrown at it.
As much as many of us were clamoring to see a microSD card to somehow magically be a part of the Note5, that's not the case, since we're only given two storage options – 32GB and 64GB; nothing more. Maybe next year folks!
Camera
Knowing that the Note5 takes after the S6, there are no surprises whatsoever to find it being outfitted with the same 16-megapixel rear camera, which features BSI, an LED flash, and an f/1.9 aperture lens. Meanwhile, the front-facing camera makes the jump up to 5-megapixels, versus last year's 3.7-megapixel snapper. Utilizing the same hardware in the S6, we can only imagine that the Note5 will take the same stunning photos as its family member.
Although it's miniscule and might be overlooked by most folks, the camera interface is updated to include the ability to adjust its shutter speed in its Pro mode. That was something missing on the S6 that prevented it from being the ultimate pro-level camera shooter in the market, but Samsung has responded accordingly to ensure it's here with the Note5. In fact, it can achieve a shutter speed as long as 10 seconds. That alone should make for some interesting low light photography, so we're excited by this revelation.
Expectations
Sometime later this month, consumers in the US will be able to snag the Samsung Galaxy Note5 through various carriers. However, we're not given details to its pricing just yet. Rather, it'll be up to the carriers to make those announcements as we near its launch date. Well, if it keeps true to what history has shown us, we can perhaps expect to see the Note5 with a premium price point – that'll more than likely turn out to be $300 on-contract, or around $700 outright. That's steep, of course, but it's not something totally out of the norm.
This year's entry to the Note5 might not have as much of a fanfare surrounding it like the Note 4, but that's partly due to the fact that the S6 come out roaring with Samsung's new design style for its high-end smartphone. In contrast, the Note 4 was one of those phones that began to shed Sammy's reputation for having boring and dull designs, paving the way for the S6 and Samsung's new premium design language.
Don't get us wrong, we're excited for this phone and whatnot, but it doesn't have the same degree of anticipation as what the Note 4 brought to the table. There's absolutely no denying that the Note5 will prove to be one of the best phones for the upcoming holiday season, but the S6 has pretty much taken much of the thunder out of things.
Cost alone will force some folks to consider if it's worth picking up, but for those who have fallen in love to what the S-Pen offers, this shouldn't disappoint with its new enhancements.