Samsung Galaxy S6 edge+ hands-on
12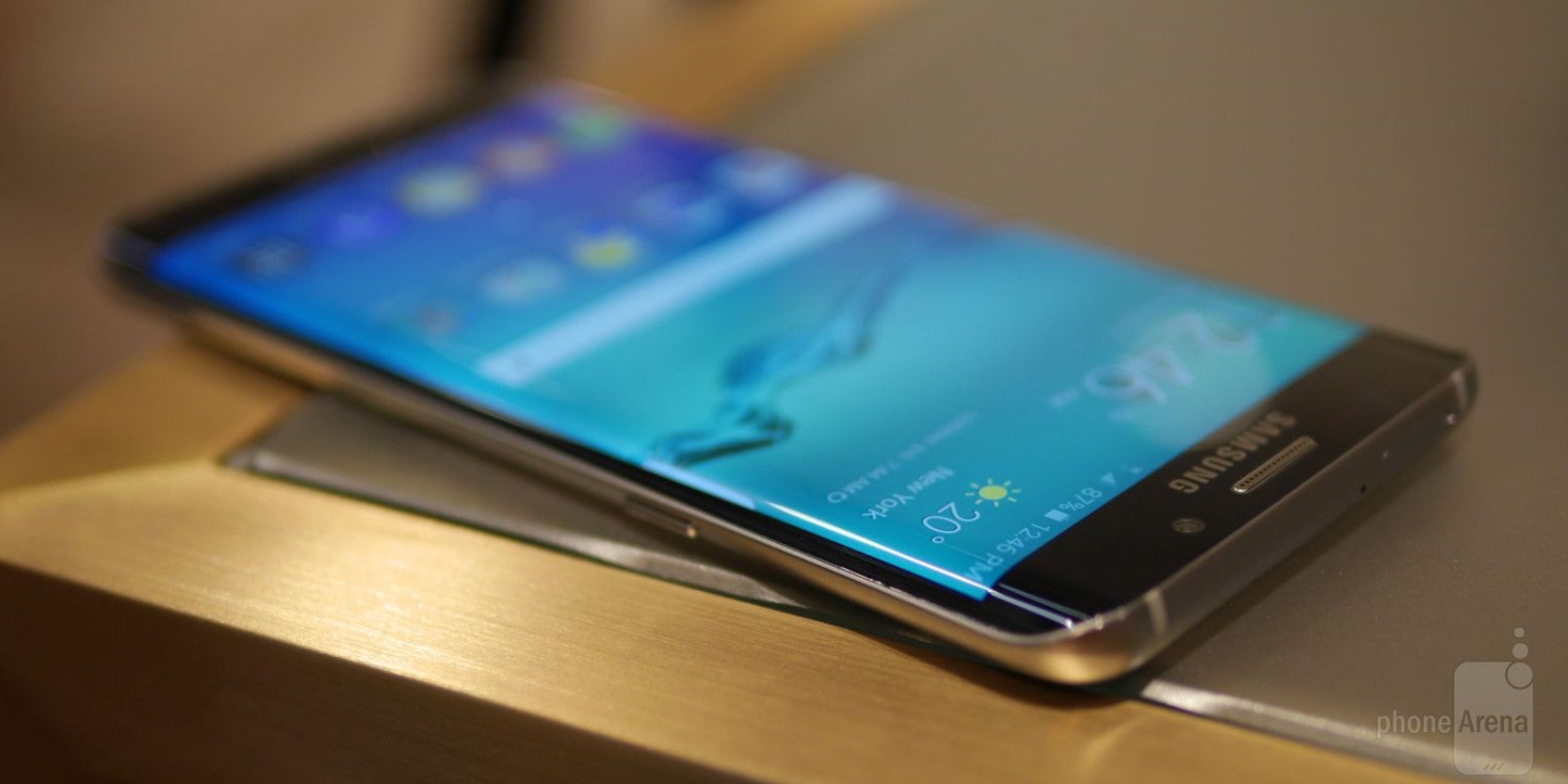 Announced alongside the
Galaxy S6
earlier this year, Samsung did something a little bit unconventional from its usual approach of announcing its flagship phone. In previous years, they've kept the focus solely on its prized flagship line, but this time around, they introduced a slight variant with an edgier aesthetic – the
Samsung Galaxy S6 edge
. Between them, the S6 edge absolutely oozed with a slicker appeal due to its dual-curved display, which became somewhat of an interesting venture for the company starting with the
Samsung Galaxy Note Edge
.
A hit is a hit, so it shouldn't surprise us that Samsung is diversifying its portfolio with the Samsung Galaxy S6 edge+. The plus found stickered on, to many of our assertions, means that it's a larger sized version of the S6 edge that we all know and love. Sporting a significantly larger 5.7-inch display, it's undeniably Note-esque in size. More importantly, though, it carries along a few other new features that helps to distinguish itself from being just a larger version of the S6 edge.
Design
What can we say about its design beyond the obvious? Surely, it's more of a handful to hold because of the increase in its overall footprint – so yeah, two-handed operation will more than likely be necessary with this one (much like any phablet, right?). Besides that, it follows in true fashion to the new design language that Samsung has been praised for since the introduction of the S6 and S6 edge. Therefore, it means we're again presented with a metal meets glass package, an ultimate alliance that gives the phone its premium construction.
It's still gorgeous with its subtle curved edges! It's still incredibly solid with its build quality! And we can't forget how the curved screen adds that element of appeal that makes the edge series such an attractive piece of tech goodness. Cementing its premium aesthetics, it's just mesmerizing even now how light bounces off the glass surfaces to produce a shimmering effect – just like its smaller sized sibling.
Our feelings about its design are pretty much unchanged from before, though, it's not a significantly profound because it's a design we've seen. Despite that, it's fashioned with all the features present in the S6 edge. That long listing includes wireless charging, rapid charging microUSB port, heart rate sensor, and fingerprint sensor. Call it a strange occurrence, but Samsung has done away with the IR blaster – saying that customers rarely used it in its devices, so the decision was made to axe it. Are we sad about that? You betcha!
Display
Jumping up in size to a 5.7-inch 1440 x 2560 Super AMOLED display, it matches the specs of the Note 5 – albeit, it has that dual-curved edge. As much as we'd love to be super enthusiastic about the specs, it's nothing revolutionary because Quad-HD resolution has become the standard for high-end devices. This is no different, naturally, but beyond the specs, we can certainly agree that it's incredibly sharp and vivid. And being a Samsung-made display, we can pretty much the same qualities from before – so exceptionally wide viewing angles and a near perfect color accuracy in the sRGB color spectrum chart.
Now, what makes this display unique over the standard S6 edge+ or the Note 5, is the fact that it bears those dual-curved edges. Previously, the features that accompanied the dual-curved display of the S6 edge weren't all that meaningful – they just lacked substance and depth to really take advantage of it. For the most part, the same roster of features are present here from here, such as edge lighting (for incoming phone calls), people edge, and ticker notifications.
Thankfully, they've included a few more to diversify things a little bit. Specifically, there's now another pane besides the edge contacts that provides us access to few frequently used apps. We won't deny that we're gladly accepting of this new pane, but it's merely just another multi-tasking alternative. Rather than using the quick apps menu of Android, this is certainly another method of getting into another app. Additionally, the other new feature is an enhanced edge handler, which now lets us choose the location of the ribbon tab – so it can be positioned in a more convenient location on either edges.
Honestly, there's still a lot of opportunity here with the dual-curved display. Even now, it's still more notable for being there for aesthetic purposes rather than functionality, so we're crossing our fingers for a more aggressive push going forward.
Interface
Playing around with the Galaxy S5 edge+ for a little bit, it's running the latest version of Samsung's TouchWiz UI on top of Android 5.1 Lollipop. Superficially, there doesn't seem to be any significant changes to the interface's presentation and functionality – so it's essentially the same found running on the existing set of S6 smartphones. That's not a bad thing, honestly, as Samsung has taken a totally new approach of toning down the experience. While there's not as many redundant software features, it still lays claim to some of the popular TouchWiz features; such as Multi-Window for true side-by-side multi-tasking.
Being announced jointly with the Note 5, it really made us wonder why Samsung didn't choose instead to announce a Note 5 with a dual-curved display. Between them, they pretty much offer the same exact TouchWiz experiences – albeit, they're differentiated by their particular features. In this case, that's the Note 5's various functions with its S Pen stylus, and for the S6 edge+, they're the stuff that accompany its dual-curved display. Well, maybe we may yet to see a new Note Edge of some kind later on?
At the very least, the two new phones announced by Sammy share some new common features that help to strengthen their usefulness. To be more exact, they include live broadcasting with YouTube, ultra high-quality audio that up scales local and streaming audio content, enhanced support for SideSync 4.0, and Samsung Pay enhancements for quick access to your choice of payment from the lock screen.
Processor and Memory
Going in-house once again, Samsung tells us that they've fashioned the Galaxy S6 edge+ with the same chipset powering the S6 edge, as well as the new Note 5 – that's a 64-bit Samsung Exynos 7 octa-core processor based on the 14nm manufacturing process. Most of us imagined something slightly different, being a newer phone and all, but we gather that the S6's outstanding performance already proves that the Exynos 7 is more than equipped for the job at hand here. However, unlike the S6 edge, the S6 edge+ is upgraded to a more generous 4GB of LPDD4 RAM.
Spending just a short time with it, we can tell you that it's fast and responsive. Any more responsive than the S6 and its variants? Well, that's tough to say right now, but rest assured it'll more than be capable of handling whatever is thrown at it.
As much as many of us were clamoring to see a microSD card to somehow magically be a part of the S6 edge+, that's not the case, since we're only given two storage options – 32GB and 64GB; nothing more. Maybe next year folks!
Camera
Knowing that the S6 edge+ takes after the S6 edge, there are no surprises whatsoever to find it being outfitted with the same 16-megapixel rear camera, which features BSI, an LED flash, and an f/1.9 aperture lens. At the same time, the front-facing camera stays put at 5-megapixels. Utter excellence is what was achieved by the cameras on the S6 edge, we can only imagine that the S6 edge+ will take the same stunning photos as its smaller sized sibling.
Although it's miniscule and might be overlooked by most folks, the camera interface is updated to include the ability to adjust its shutter speed in its Pro mode. That was something missing on the S6 and S6 edge that prevented them from being the ultimate pro-level camera shooter in the market, but Samsung has responded accordingly to ensure it's here with the Galaxy S6 edge+. In fact, it can achieve a shutter speed as long as 10 seconds. That alone should make for some interesting low light photography, so we're excited by this revelation.
Expectations
Samsung says that the smartphone will go on sale very soon, but they didn't specify its exact pricing. That, of course, is being left for the carriers to announce further down the road. Honestly, it's a nice gesture that Samsung is diversifying its portfolio, but this phone will appeal to those who weren't sold on the smaller size of the S6 edge in the first place.
We're more concerned about its pricing, seeing that the S6 edge already carries a higher price point than the Galaxy S6 – a cool $100 in most cases even! Taking everything we know and love about the S6 edge already, while increasing its size to push it into phablet territory, we can only imagine what kind of premium this phone will incur when it's finally revealed. Let's just hope it's not something really ridiculous – like another $100 increase over the S6 edge's price. That would make it almost impossible to attract potential buyers, so let's hope that the S6 edge gets some sort of price decrease, and this larger sized one would occupy the spot that's made vacant.